Join The Mediterranean Way and Explore Mediterranean Diet & Lifestyle!
Registration for this Mediterranean Diet Lifestyle Change Program Begins on December 10th, 2015.
Learn all about eating Mediterranean and other important aspects of Mediterranean Diet, s much as mindfulness and regular exercise and movement. Mediterranean Diet is the healthy way that you can make changes for the long run!
What the Program Includes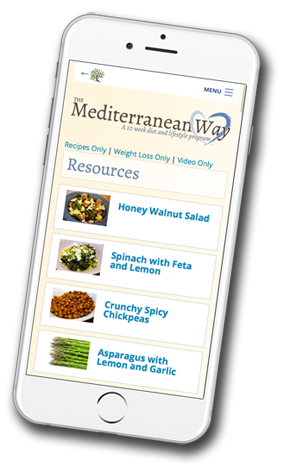 Weekly challenges that will lead you step by step to eating the Mediterranean Diet.
An optional weight loss program that includes Mediterranean weight loss resources.
An on-line support group with daily check-ins from Mediterranean Living staff.
Weekly cooking and nutrition videos from Bill Bradley, R.D.
Access to over 100 Mediterranean Diet recipes.
Weekly on-line check-ins with a Registered Dietitian.
Resources for eating out, exercising and weight loss.
A virtual walking program across the island of Crete.
An exercise calculator so you can translate any exercise into walking miles.
Prizes for points earned sent directly to your home.
Download our Free e-Book Today!