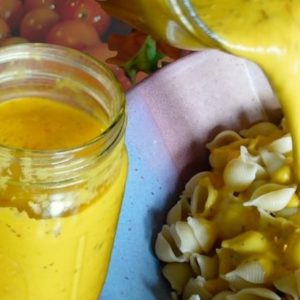 Cherry Tomato Sauce made in a Mason Jar
Summer is a crazy harvest time for us. One week we are picking a ridiculous amount of zucchini, the next its eggplant and this week it has has been cherry tomatoes. One of my favorite pasta sauces is roasting cherry tomatoes in the oven with olive oil, capers and garlic. Usually, I leave the tomatoes whole after roasting, but this week I roasted the cherry tomatoes and then pureed them in a mason jar with an immersion blender. The result was a sweet, creamy sauce that was a perfect compliment to pasta and made even more wonderful topped with grated parmesan cheese. Sophia, our 2 year old daughter couldn't get enough of this sweet cherry tomato sauce on pasta shells.
Preheat oven to 400 degrees F.

Add cherry tomatoes to a sheet pan. Drizzle on olive oil and balsamic. Sprinkle on oregano, crushed garlic, salt and pepper (you can add more salt and pepper later).

Bake in the oven for around 20 minutes or until cherry tomatoes begin to wrinkle. Remove from oven and let cool.

Add tomatoes including all the liquid at the bottom of the sheet pan to a 1 quart mason jar. You can add any other ingredients such as fresh herbs, grated cheese or cream. Puree tomatoes with an immersion blender to desired consistency. Use immediately, refrigerate or freeze in mason jar.