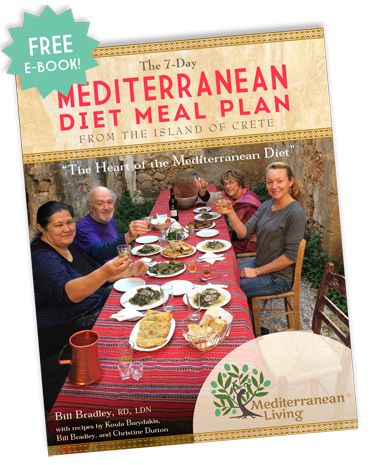 Free E-Book
The 7-Day Mediterranean Diet Meal Plan
By Bill Bradley
With recipes by Koula Barydakis, Bill Bradley, and Christine Dutton
Go on a culinary journey to the Mediterranean Island of Crete, known as one of the healthiest places in the world. Bill Bradley, Registered Dietitian, lecturer, and cookbook author will teach you how easy it is to follow the most well studied and delicious ways of eating in the world.
↓ Enter Your Email Address

As an admitted cookbook hoarder, culinary school grad and enthusiastic cook I admit that I typically shy away from "Diet" cookbooks as they usually strip everything good out of authentic, traditional recipes or dumb them down too much for my sensibilities. I was thrilled to review the Mediterranean diet and see that not only do the recipes look delicious, they are easy to understand with clear instructions, and in spite of their simplicity they are bursting with flavor. Nothing is missing. This is simply a healthy, delicious example of how changing your diet can reward your palate AND your sense of self. I'm a fan.
↓ Enter Your Email Address