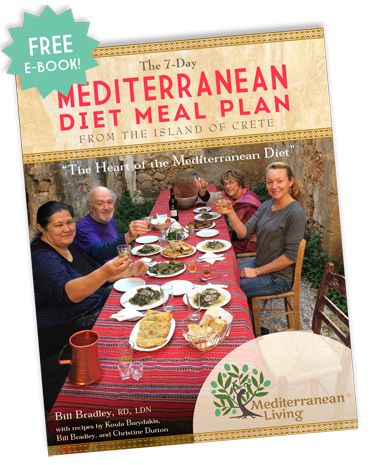 Free E-Book
The 7-Day Mediterranean Diet Meal Plan
By Bill Bradley
With recipes by Koula Barydakis, Bill Bradley, and Christine Dutton
Go on a culinary journey to the Mediterranean Island of Crete, known as one of the healthiest places in the world. Bill Bradley, Registered Dietitian, lecturer, and cookbook author will teach you how easy it is to follow the most well studied and delicious ways of eating in the world.
↓ Enter Your Email Address

I am not only a member but the founder of The Cookbook Junkies — as I admittedly am a cookbook and cooking enthusiast. I have to confess I do not have one diet cookbook in my collection. Having said that looking at the Mediterranean 7 Day Diet Plan with it's luscious recipes and ingredients I have changed my way of thinking — this is not a diet as in – restricting delicious food. This is a plan to enhance your diet by adding wonderful dishes with simple, straightforward recipes that deliver flavor and complexity. I'm looking forward to more installments.
↓ Enter Your Email Address