Are you spending a lot of time watching other people exercise?  When I go to parties to watch sporting events, I notice that the food is usually Doritos, potato chips, M&M's, processed dips, lite beer and sugary desserts.  The problem here, for me, is that if there is no alternative I will eat all of those foods and as the athletes are celebrating their wins on t.v., I am down for the count with heartburn and bloating.
Here are some Mediterranean Diet recipes to eat while you are watching other people exercise that will fill you up, give you energy, and not make you miss your cheez curls.
Greek Lamb, Tomato and Onion Skewers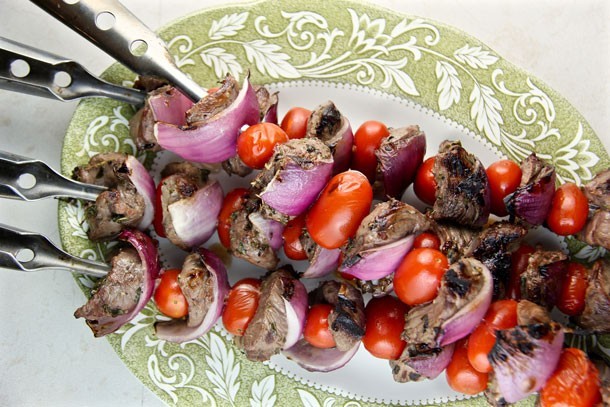 These juicy morsels of lamb skewered with tomatoes and onions are great for any party.  I usually serve this with a Greek Salad or Roasted Cauliflower (or both).
Recipe: Greek Lamb, Tomato and Onion Skewers

Red Pepper Hummus
If you are looking for the perfect dip for your pita or cut vegetables, try this lively red pepper hummus.  It is easy to make and you can make enough for just the party or for the whole week.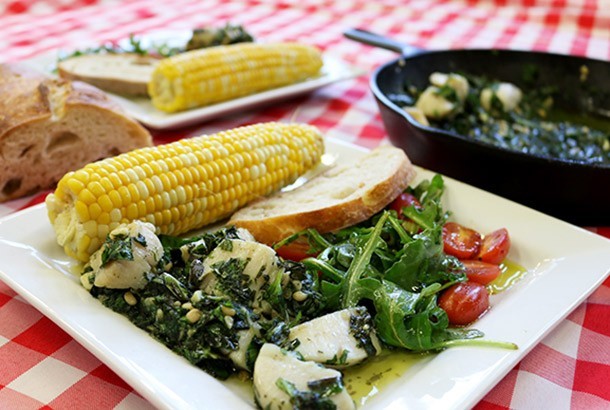 Pan-Fried Scallops with Hand Chopped Pesto
This is a special recipe to make when you are inviting people over that you really like.  Super delicious with corn on the cob, a simple salad with Dijon Balsamic Vinaigrette and bread to dip in the pesto.
Recipe: Pan-fried Scallops with Hand Chopped Pesto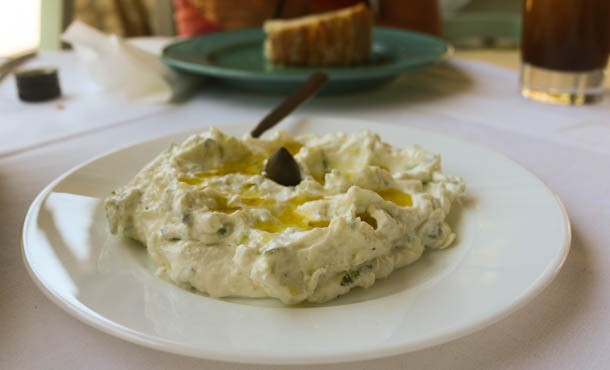 Tzatziki
This Greek dip makes a delicious and filling appetizer or snack. It goes very well with dolmades (grape leaves) or simply served with pita or cut vegetables.  Also, you can serve it with Chicken Souvlaki which makes a meal in itself.
Mediterranean Fried Potato, Tomato and Arugula Salad
One of my favorite party salads.  This is a winner with both men and women.  Serve it with chicken or fish or eat it on its own with baked garlic and olive oil bread.
Recipe: Mediterranean Fried Potato, Tomato and Arugula Salad
 
Falafel with Tahini Sauce
If you want the feeling of eating something fried, but want it to be good for you, then try falafel with tahini sauce.  Healthy beans, herbs and spices fried on medium heat in olive oil.  I like a simple salad with Lemon Parmesan Dressing to go with it.  Tip:  Make enough, they are addicting!
Recipe: Falafel with Tahini Sauce
Provolone and Tomato Sandwich Grilled in Olive Oil
Simple to make, quick and guess what, it's a healthy grilled cheese sandwich!  Serve with a simple salad with our Traditional "Greek Restaurant" Salad Dressing
Recipe: Provolone and Tomato Sandwich Grilled in Olive Oil
SaveSave
SaveSave
SaveSave
SaveSave
SaveSave
SaveSave
SaveSaveSaveSave
SaveSave