This Deep-Sea Purple Kraut recipe is excerpted from our friend Brittany Wood Nickerson's new book Recipes from the Herbalist's Kitchen © used with permission from Storey Publishing.
Looking out over the ocean is easily one of the more mesmerizing ways to view the natural world. The constantly changing interplay of the soft gray-green foam of crashing waves, the light greens of shallow waters, and the dark blues, purples, and blacks of the deep sea is a reminder of the mutability of our perspective: it changes as we move, as the tide ebbs and flows, as what lies beneath changes.
Watching this magical kraut ferment is like watching the ocean — only the dance of change happens right on your kitchen counter. As lactic acid bacteria break down the fibers, starches, and sugars in the cabbage and seaweed, they create new nutrients (vitamins and probiotics) and new colors. Ever-changing and alive, the kraut feeds not just our body but our perspective.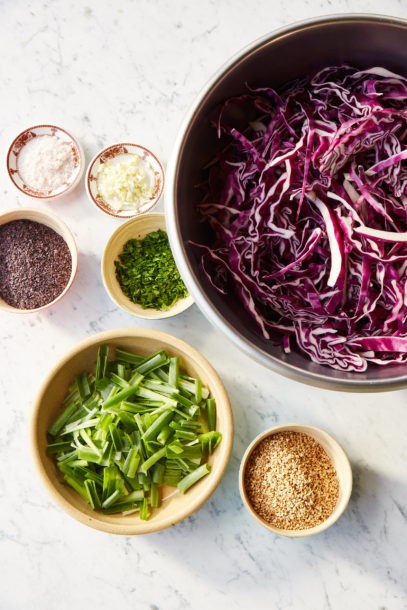 Sauerkraut is excellent for digestion; the sour flavors are light and fresh and help cleanse the palate. It makes a great condiment or side dish for almost any meal.
Seaweeds are the greens of the ocean, vitamin- and mineral-rich superfoods. While there are many varieties of seaweed, each with its own unique health benefits, they all have a softening effect on the body. This is particularly noteworthy for the cardiovascular system; here, seaweed helps maintain flexibility in the blood vessels. Picture dulse, or another variety, growing on a rock, riding the waves of the sea, flexible and adaptive as wave after wave runs its course. When our arteries have become hardened by plaques and age — or our minds have become hardened by thoughts or experiences — seaweeds help us relax and soften.
Besides providing a rich array of vitamins, minerals, and trace nutrients, dulse acts as a flavor enhancer. Its presence adds an intriguing salty flavor that is sometimes hard to pinpoint.
FERMENTATION BASICS
Lactobacillus and other bacteria responsible for successful fermentation thrive in a salty environ­ment but are harmed by chlorine and iodine. For this reason, we need to pay special attention to the ingredients we use when preparing fermented foods. Successful fermentation requires nonchlorinated water — filtered water, well or spring water, or some kinds of bottled water. Many municipal water supplies are now treated with chloramine, a more stable form of chlorine. Chloramine is harder to remove than chlorine; you may need a special filter. Call your municipality to find out how they treat your water.
It is also important to use non-iodized salt. Like chlorine and chloramine, iodine disrupts the delicate balance of bacteria in your ferment and could cause it to spoil. I prefer to use unrefined salt in my cooking and for fermentation. Unrefined salt contains minerals and usually has a gray or pink color. However, any non-iodized salt will work, including kosher salt and refined sea salt.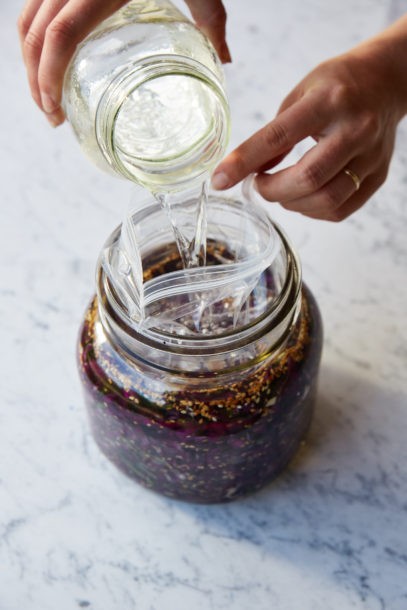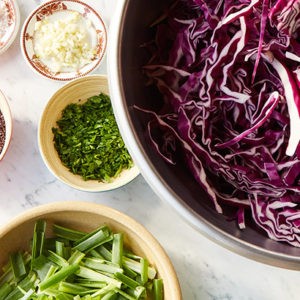 Deep-Sea Purple Kraut