Many Mediterranean Diet recipes are aphrodisiacs.
What exactly is an aphrodisiac? Simply put, it is a food or substance that increases sexual desire or excitement. Do you ever feel frisky after drinking a glass of champagne? That is an example of consuming an aphrodisiac. There are many juicy and delicious foods, drinks and spices with aphrodisiac properties. Here are some of our favorites: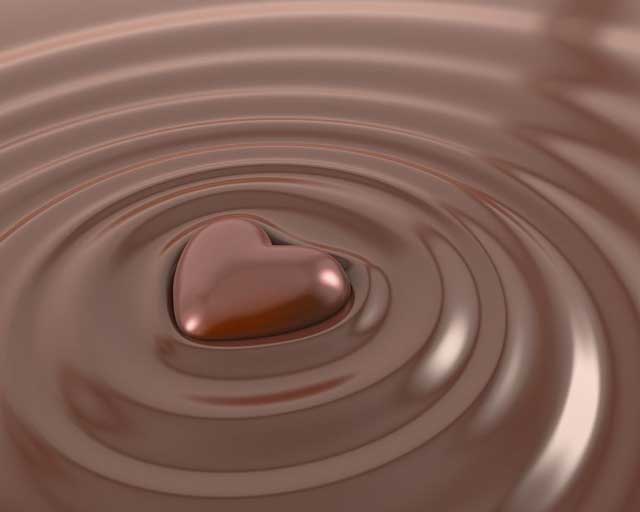 Chocolate
Chocolate is known to increase desire and boost the neurotransmitters in the brain, often mimicking the feelings we have when we fall in love. You can eat it as candy, use it as a dip for other sensual fruits (think figs, apricots, grapes) or even brush it on skin. No matter how you experience it, allow yourself to delight in the pleasure it offers up.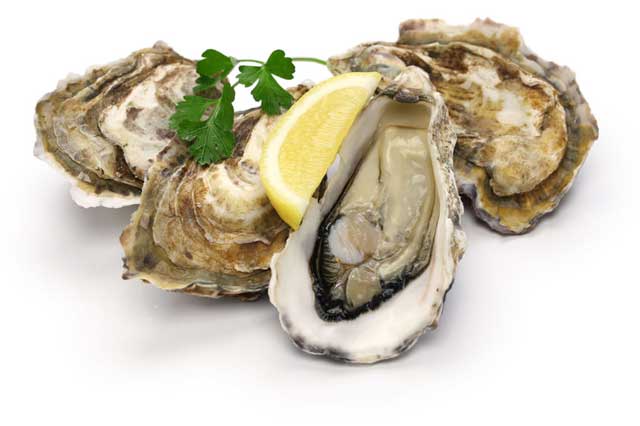 Oysters
Consider Casanova. He ate fifty oysters for breakfast every day and was known the world over for being the greatest lover of the 18th century. Did he know what he was doing?
You bet he did! Oysters have now been scientifically proven to increase libido. Oysters are not only sensual to consume but also have a high content of zinc and rare amino acids which are known to increase desire. There are many ways to enjoy these sensually slippery shellfish, from raw to deep fried.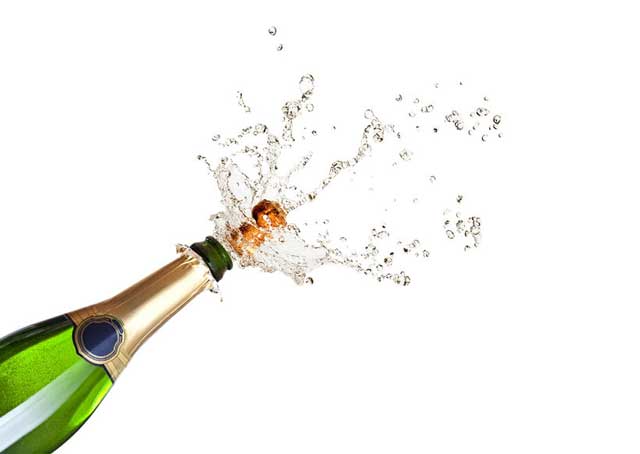 Champagne
There's no denying that champagne offers up a giddy feeling of inner fizz. It's effervescence is irresistible and plays a role in it's special, delightful power. All alcohol is known to lower inhibitions but carbonated drinks have been proven to release into the bloodstream faster. Thus, champagne is even quicker than wine to lift your mood and offer up a sense of wellbeing and relaxation. Champagne can help make an average romantic moment into something even more special.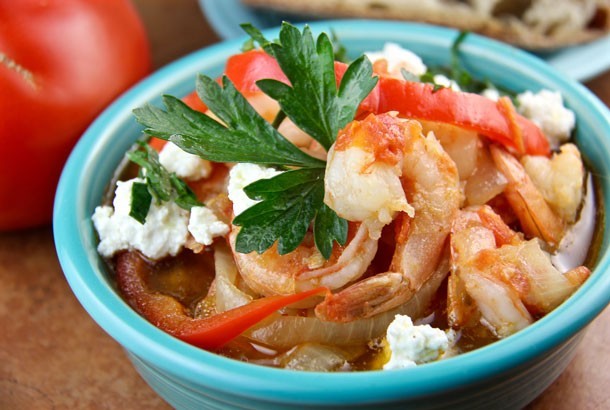 Shrimp + Scallops
Shrimp have nutrients which are known to support blood circulation and help sustain hormonal balance in men. Additionally, the taurine in shrimp is an energy enhancer for both men and women. Surprisingly, many of the popular energy drinks now available use taurine that comes from shrimp.  Try our Shrimp with Feta and Tomatoes from the island of Crete for a delicious turn on.
Scallops are nutritional powerhouses. Each portion offers up an entire multivitamin complex as well as many Omega fatty acids. They are also a great source of magnesium which helps our blood vessels to release and invites a lowering of blood pressure. Eating scallops can help promote stamina and lift your mood – helpful for a long and lovely Valentine's evening.
If you don't eat fish or drink alcohol, don't worry. There are many delightful vegetarian foods that are believed to have aphrodisiac properties. This luscious list will get you started: Almonds, Avocados, Chili Peppers, Garlic, Ginger, Honey, Pineapple, Raspberries, Saffron. If you don't see your favorite foods here, don't despair. There are many more vegetables and spices known to be aphrodisiacs. Simply by including some of them in a romantic meal, you will be boosting your health while you warm up your mind, heart and spirit.
Don't forget – the way you eat can also effect how you feel. So slow down and really take your time. Taste the juicy beauty of that strawberry. Marvel over the delights of your seafood meal. Look into the eyes of your beloved while you sip champagne. When you make everything as pleasurable as possible, you can feel your food throughout your body –  from the top of your head to the tips of your toes…..and all those places in between.
And don't let any ideas of age get in your way when planning a sexy romantic meal. On the islands of Crete and Ikaria in the Mediterranean, a healthy sex life is known to be a central component of complete wellbeing and many of the residents there report being sexually active well into their 90's. If they can do it, so can you!
For more "turn on" recipes check out Intimacy on the Plate: 200+ Aphrodisiac Recipes to Spice up your Love Life at Home by Olga Petrenko
SaveSave
SaveSave
SaveSave
SaveSave
Download our Free e-Book Today!