These baked chickpeas are a traditional recipe from the Greek island of Ikaria, also known as "The Island Where People Forget to Die".  The island has the highest rate of centenarians in the world (people who live to be over 100).  Much of their amazing longevity is due to their adherence to the Mediterranean Diet which, of course, is natural for them as they live on the Mediterranean Sea.
Chickpeas are a staple of Ikarian cuisine and they now make a regular appearance on our table too. At least once a fortnight I cook a large batch and freeze most for use during the week, adding them to salad, stews, soups, curries and the kids' lunchboxes.
I have included here the very traditional version using dried chickpeas as well as the version using canned chickpeas for the super busy cook.
This baked chickpeas recipe is from the book "My Ikaria: How the People from a Small Mediterranean Island Inspired Me to Live a Happier, Healthier and Longer Life" by Spiri Tsintziras.  This is an inspiring story of a stressed out and depleted woman who was overeating and living the Western lifestyle "raising kids, running a household and managing a business" and how a trip to the island changed her life.   I would recommend this book if you are looking for some inspiration to slow down and enjoy the roses.
Enjoy!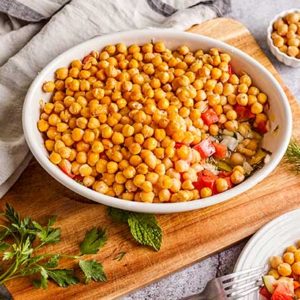 Baked Chickpeas with Zucchini and Fresh Herbs
Ingredients
1

pound

dried chickpeas (1 pound, dried) or 1-28 ounce can chickpeas

2

medium

carrots, peeled and quartered

2

small

zucchinis, quartered

2

tbsp

fresh mint, chopped

2

tbsp

fresh dill, chopped

2

tbsp

fresh flat leaf parsley, chopped

2

medium

onions, diced

2

medium

onions, diced

2

small

tomatoes, chopped

3

tbsp

extra virgin olive oil (with extra to serve)

salt, to taste
Instructions
BEGINNING WITH DRIED BEANS

Soak chickpeas overnight. Place in saucepan, cover with water and bring to a boil. Rinse, place once again in saucepan,