A Special Treat from Jenni Field of Pastry Chef Online: She is fearless in the kitchen!
We are pleased as punch that Jenni accepted our invitation to contribute a recipe to Mediterranean Living. We love that she is so experimental in the kitchen, spending lots of time re-working her recipes to create next level creations. Everything she makes is drool-worthy and this Bucatini recipe is no exception. This is comfort food at its finest! Here is what Jenni had to share about her recipe:
When I think of eating according to the Mediterranean Diet, I think about loads of fresh, vibrant vegetables, maybe some lovely seafood, and a generous amount of yellow-green, extra virgin olive oil. I am completely happy to eat that way when it is spring and summer, when the sometimes oppressively hot weather begs minimal cooking and lighter fare. I have a confession to make, though. While I am strolling down the aisles of my local farmer's market and being lured in by a bright crayon box full of color, I secretly long for platefuls of comfort food.
Even as I happily cram my basket full of eggplant and summer squash, I am dreaming of shorter days and cooler nights when I can indulge in some heavier, richer meals. If you are anything like me, this bucatini pie is right up your alley. Similar to macaroni and cheese but in sliceable form, this pie will feed twelve hungry folks. Traditionally made with spaghetti, I love the texture of the heartier bucatini. Four cheeses provide a delicious creamy backdrop for the bits of hot soppressata mixed throughout. Lest the pie seem a bit too heavy, I've paired it with an intense and versatile tomato sauce, which I'm sure you'll find many uses for. The sharp, sweet tomato flavor cuts through the fat and brings the pie into balance.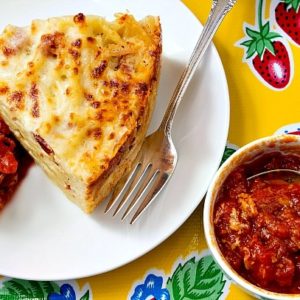 Bucatini Pie With Marinara Sauce