We are very excited to share with you a terrific Mediterranean Diet recipe by Nancy Harmon Jenkins. Nancy is a celebrated food writer and Mediterranean Diet and cuisine expert, who splits her time between an olive farm in Tuscany and her home on the coast of Maine. She is the author of "The Mediterranean Diet Cookbook," published in 1993. She has written many acclaimed cookbooks and we are sharing a recipe from her latest book, "Virgin Territory: Exploring The World of Olive Oil." Gratin of Tomatoes and Zucchini is an excellent recipe for summertime, especially with the availability of fresh local zucchini.
Staff members at Mediterranean Living enjoyed this dish immensely. The fresh summery vegetables simply melt in your mouth. The addition of traditional Mediterranean cheeses and the bright basil flavor make this recipe stand out among gratin recipes. We'll absolutely be adding this to our repertoire! We enjoyed this dish with a small side of pasta and a Greek Salad. It was the perfect meal.
We have been avidly exploring "Virgin Territory" and highly recommend this book. Stop here to pick up your copy. Also, stop by Nancy Harmon Jenkins' website for recipes, upcoming events and more! Virgin Territory is also on Facebook, so please pop by to like the page. 
Photo Credit: Christine Dutton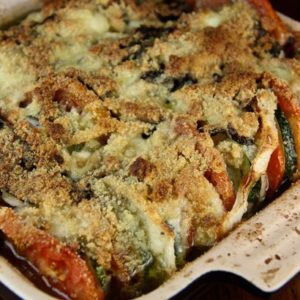 Gratin of Tomatoes and Zucchini
Ingredients
1/2

cup

extra virgin olive oil

2

pounds

small ripe tomatoes, sliced about 1/4 inch thick

3

dark green zucchini, sliced about 1/4 inch thick

1/2

medium

red onion, sliced about 1/4 inch thick

sea salt

fresh ground black pepper

3

cloves

garlic, chopped

1/2

bunch

basil, leaves only, coarsely chopped

1/2-3/4

cup

ricotta cheese

1/4

cup

dry bread crumbs

1/4

cup

freshly grated parmigiano reggiano cheese
Instructions
Preheat the oven to 375 degrees Fahrenheit.

Spread a thin film of olive oil over the bottom of a gratin dish.

Arrange alternating slices of tomato, zucchini, and red onion in the dish, stacking them on a diagonal. If there is excess onion at the end, scatter the remainder over the top, along with a sprinkling of salt and pepper and the garlic bits. Arrange the basil on top.

Set aside 1 Tablespoon of olive oil and dribble the remainder over the contents of the gratin dish. Add dabs of the ricotta all over, then sprinkle with the bread crumbs and grated cheese. Spoon the remaining 1 Tablespoon of olive oil over the top. Slide the gratin dish into the oven and bake for 45 minutes to 1 hour, until the top is brown and bubbly.

Serve as soon as you remove the dish from the oven, or set aside to eat later-it's as good at room temperature as it is piping hot.
Nutrition
Calories:
279
kcal
Carbohydrates:
14
g
Protein:
7
g
Fat:
23
g
Saturated Fat:
5
g
Cholesterol:
13
mg
Sodium:
133
mg
Potassium:
670
mg
Fiber:
3
g
Sugar:
7
g
Vitamin A:
1615
IU
Vitamin C:
40
mg
Calcium:
137
mg
Iron:
1
mg