Greek fava is a bit of a misnomer because it isn't actually made from fava beans, but rather yellow split peas.  It is a simple dip using 5 ingredients that is both satisfying and delicious accompanied by bread, olives and cheese.  This recipe is from the Stamatis family on the island of Ikaria which has also been called the "Island Where People Forget to Die" because it has the highest rate of people to live over 100 years of age in the world.
Ikaria is a beautiful Greek island about 60 miles from Turkey.  My wife, Christine and I visited there a few years back and spent some time with Diane Kochilas, a cookbook author extraordinaire and host of the public television show My Greek Table.  It is a rugged island where elders are not only healthy, but very well respected.  It is an island where people spend a lot of time producing their own food and also much time relaxing.
This Greek fava recipe is from the book "My Ikaria: How the People from a Small Mediterranean Island Inspired Me to Live a Happier, Healthier and Longer Life" by Spiri Tsintziras.  This is an inspiring story of a stressed out and depleted woman who was overeating and living the Western lifestyle "raising kids, running a household and managing a business" and how a trip to the island changed her life.   I would recommend this book if you are looking for some inspiration to slow down and enjoy the roses.
Making fava only involves a few steps.  To begin, rinse the fava beans and prepare the other ingredients.  Pour fava beans and chopped onions into a saucepan, add water to a few inches above the beans and bring to a boil.  Boil the beans until they are mushy adding more water if needed.  Transfer the beans to a bowl and beat in the rest of the ingredients with a fork.
When I have eaten this dish in Greece, it is usually cold and served with other small plates (mezze).  Sometimes, olive oil is drizzled on top along with smoked paprika and an olive in the middle.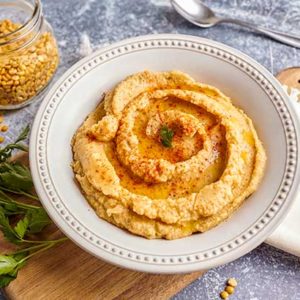 Greek Fava