The Queen of all Vegetables
Eggplant is probably the most beloved ingredient with Sicilian people, so much so that they consider it the queen of all vegetables. In fact, there are endless recipes from the region that feature it as a main ingredient either baked, fried, sautéed, pickled, stuffed or grilled.  This grilled eggplant recipe is a Sicilian favorite.
Therefore, as the season for this amazing and extremely versatile vegetable is about to start and the weather is getting perfect for grilling outside, today I want to share with you my Sicilian grilled eggplant recipe. It is one of the most traditional dishes from the island that is also widely prepared throughout all of southern Italy.
This is a very simple preparation that takes the natural sweetness of the eggplant and enhances it with just a handful of other fresh and tasty ingredients that come directly from the earth like mint and garlic. Here, it's usually eaten as a starter, but it could work well also as a side dish.
The Secret to Grilling Eggplant
The secret for the success of this dish, however, is to be a little patient. This is because the only way to get lusciously tender eggplants with nice charred marks on the outside is to cook them on very low heat for as long as it takes. That being said, you don't need to worry: it won't take you more than 20 minutes and the result will be amazing.
Just to give you an idea, let's just say that in Sicily, whenever you have a family meal, this is that one dish that can never miss on the table, and that disappears in less than 2 minutes!
Moreover, if by any chance you have some leftovers, you can definitely put them into a sealed container and store in the fridge for a few days. In fact, even though this grilled eggplant recipe is usually served hot, it is also very tasty at room temperature and is a great addition to panini and other preparations.
30 more Mediterranean Grilling Recipes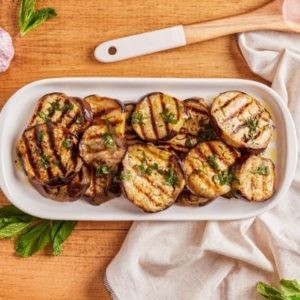 Grilled Eggplant with Mint and Garlic Dressing (Italy)