Fattoush is a traditional Lebanese salad that belongs to a group of dishes known as fatteh. We hope you enjoy this tasty recipe for fattoush by our Lebanese contributor, Tina Rizk!
Fattoush is the kind of salad people throughout Lebanon typically make every other day. Like many other Lebanese recipes, it includes leftover pita scraps, fried or toasted, that serve as croutons. Pita bread has been a staple of Lebanese cuisine since the 16th century! My ancestors have been quite creative in coming up with a whole range of delicious dishes called "Fatteh", which means to tear into small pieces, referring to the process of tearing pita scraps:
Different Types of Fatteh
Chickpea Fatteh (chickpeas, yogurt, pine nuts, olive oil, and cumin.)

Lamb Fatteh

Kafta (Beef) Fatteh
I still recall the variety of mezze dishes that we used to eat every night during summertime when I was a child; all the family sitting under the moon and shining stars on our balcony in the mountain (Dhour Choueir) admiring the endless mesmerizing scenery of pine trees. My siblings and I would happily savor the traditional Lebanese fattoush salad while my parents sipped chilled Arak. Today, I want to share with you the same irresistible fattoush recipe that I remember enjoying as a child and the one that I make for my kids to this day. 
Fattoush Variations and Essentials
Fattoush salad is indeed very refreshing especially in summer with its blend of fresh veggies (cucumbers, tomatoes, purslane leaves, lettuce, green bell pepper, radish, parsley, green and red onions, and mint), sumac spice, olive oil and fresh lemon juice. 
Others may add to the recipe 1 teaspoon of vinegar and pomegranate molasses, but I prefer it with olive oil and fresh lemon juice. Keep in mind that sumac, a citrusy, tangy spice made from ground sumac berries is a must. Sprinkled over the veggies, it gives fattoush a unique flavor. The more veggies you add to the fattoush, the better! So if you have other veggies in your fridge like thyme or rocca leaves, feel free to add them to the fattoush.
Interested in more Lebanese recipes by Tina? Check out this recipe for tabbouleh!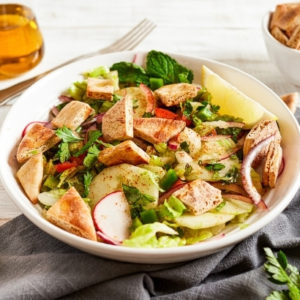 Lebanese Fattoush Salad
Ingredients
Salad Ingredients
2

pita breads cut into small squares and baked in the oven (you may use tortilla instead)

3

leaves

Romaine lettuce, chopped into bite-sized pieces

1/2

cup

parsley, thinly chopped

2

cucumbers, peeled and thinly-sliced

1

medium

tomato cut into small pieces

1

small

green bell pepper cut into small pieces

4

radishes, thinly sliced

1/2

cup

purslane leaves (optional)

1/4

cup

loosely chopped mint leaves

2

green onions, thinly-sliced

1/2

small

red onion, peeled and thinly-sliced
Lemon Dressing Ingredients
2

tsp

ground sumac mixed in 3 tablespoons of cold water

1/4

cup

freshly-squeezed lemon juice

1/4

cup

extra-virgin olive oil

1/4

tsp

salt