Lentils with Salsa Verde by Brittany Nickerson, Master Herbalist
This is one of my favorite healthy winter dishes, not just because of the lentils, but also because of the fresh herbs, spices, and garlic in the salsa verde.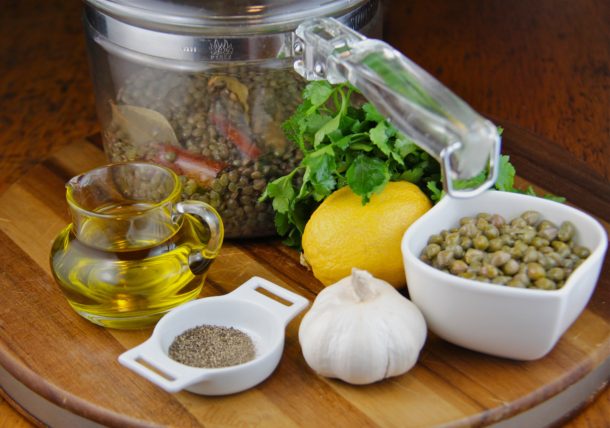 Fresh herbs and spices are such an important part of the diet. They boast complex flavor profiles that stimulate digestion and metabolism and improve absorption of nutrients. In addition, many herbs that we commonly use in cooking have other powerful health benefits. Parsley, for example, contains Vitamins E, A and C, calcium, magnesium, potassium and iron. It is also excellent for the kidneys and prostate and promotes detoxification.
Garlic is another important and often overlooked medicinal food. Garlic contains sulphur compounds that have been studied extensively for their antimicrobial and immune strengthening benefits. These compounds increase the immune response and help the body fight viral, bacterial and fungal pathogens. Eating it raw really provides the best benefit here, so recipes like this salsa verde are the perfect condiment to incorporate into your diet when you feel a cold coming on, or once you have one.
As if all that was not excellent enough, garlic is wonderful for the cardiovascular system. It supports elasticity of the blood vessels, thins the blood and helps the body utilize cholesterol. For this you can eat it both raw and cooked.
I like to add raw garlic to my cooking at the end, just enough so that the flavors can soften and mellow, but that it doesn't lose so that it doesn't cook for so long that it loses the benefits of being raw found in raw garlic. I don't want to discourage you from cooking with it too;  I love to roast garlic, stew it and saute it – but I do make sure to get at least some raw garlic into my life, particularly during the winter health season!
SaveSave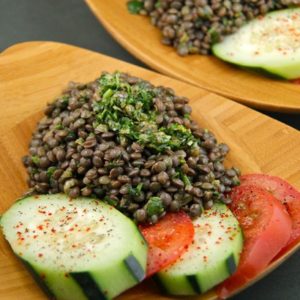 Lentils With Salsa Verde
Ingredients
2

cups

French lentils, soaked overnight

For the lentils:

1

bay leaf

1/4

cinnamon stick

2

packed cups

flat leaved Italian parsley (large stems removed), finely chopped

For the salsa verde:

2

tbsp.

finely chopped fresh oregano (optional)

1/3

cup

capers, coarsely chopped

2

cloves

garlic, finely minced

1

lemon zest

fresh ground black pepper, to taste

1/2

cup

olive oil (approximately)
Instructions