Today we have a special treat for you. We welcome Aglaia Kremezi, award winning cookbook author and educator on Mediterranean diet and cuisine. Aglaia teaches cooking classes in Kea, Greece.  Here she shares her recipe for Crustless Zucchini Pie from her book "Mediterranean Vegetarian Feasts." This delicious recipe is here just in time for zucchini season!
More about this delicious and filling Mediterranean recipe from Aglaia Kremezi:
A French guest once called it "flan," but this rustic Balkan dish is too hearty for such a dainty description. This pie has no cream and uses only two eggs and oats as a binding agent for the raw grated zucchini, which is scented with fresh mint and dill. If you don't have zucchini, squash is a wonderful substitute. Once I found myself without stale bread and substituted rolled oats, ground in a blender; I have also added sunflower seeds and pecorino to top the pie, giving it a nice crunchy crust. Alternatively you can omit the nuts and top the pie with thin tomato slices.
I usually serve it as main course, with a generous tomato salad. But it can also be an appetizer, and is our guests' favorite picnic food, as we often bring it with us to the beach, precut into bite-size pieces.
Explore Aglaia Kremezi's website.
Like Aglaia Kremezi's Mediterranean Vegetarian Feasts page. 
Bonus: Here is Mediterranean Living's review of Aglaia Kremezi's cookbook, "Mediterranean Vegetarian Feasts."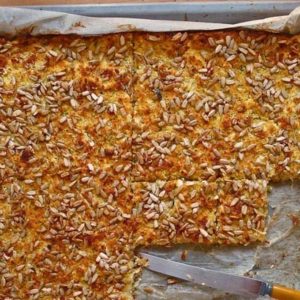 "Naked" or Crustless Zucchini Pie
Ingredients
2

pounds

zucchini (or squash) coarsely grated in a box grater or on a mandoline fitted with the julienne attachment

salt

1

onion, finely chopped or grated

1 1/4

cups

ground rolled oats (quick-cooking)

3/4

pound

feta cheese, crumbled