Fall is finally here and what better way to celebrate this colorful season than by eating its most iconic products? Pumpkin and mushrooms are always a great combination and they work together amazingly well in this classic pumpkin risotto. The sweet and slightly nutty flavor of the pumpkin pairs perfectly with the umami of the mushrooms, the salty sharpness of the Pecorino cheese ties everything together, creating a great creamy consistency. 
This recipe is an evergreen from the northern regions of Italy, and it is basically quintessential autumn in a pan. For this reason, during this time of the year, it is very common to find this pumpkin risotto as the dish of the day in many taverns throughout the country and especially in the Lombardy and Piedmont regions. 
When I make this recipe at home, I usually like to use Pioppini mushrooms, but any variety you have on hand will work just fine. That being said, if you happen to have some wild mushrooms they will work even better! Last week, for instance, my grandmother and I went mushroom picking and came back with a good amount of fresh Porcini. I made this risotto with them and it was absolutely delicious!
Prep notes:
If you want to make this recipe even quicker, you can use store bought pumpkin puree instead of stewing a fresh one. In this case, just make sure it is 100% pumpkin with no added sugars. Also, it is better to add the puree together with the mushrooms, after the rice has already been cooked.
On the other hand, if you have more time you could roast the pumpkin in the oven before adding it to the pumpkin risotto. It will take you around half an hour more, but you will definitely get a deeper and richer flavor. 
Enjoy!
Here are some more ideas for eating Mediterranean in the Fall!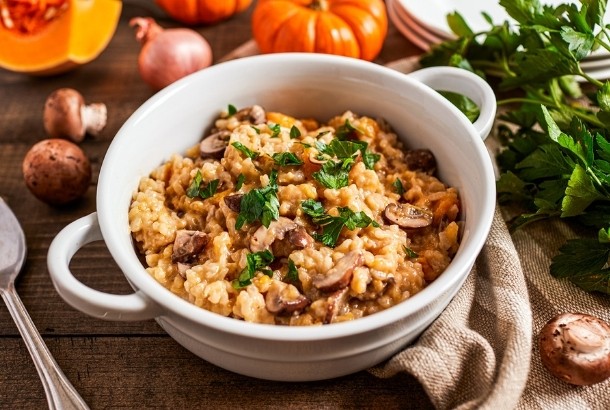 Pumpkin Risotto with Mushrooms (Italy)
Ingredients
4

cups

chicken stock (if you are a vegetarian you can use vegetable stock)

8

ounces

pumpkin

8

ounces

fresh pioppini mushrooms (or any other variety)

1

tbsp

extra virgin olive oil

2

small

shallots, finely chopped

1

spring

rosemary, whole

Salt and pepper, to taste

2/3

cup

risotto rice (Carnaroli, Arborio or Vialone nano)

1/2

cup

white wine

1/3

cup

Pecorino or Parmesan cheese, finely grated

A sprinkle of chopped parsley
Instructions
In a small pan, bring broth to a light simmer.

Meanwhile, prepare the pumpkin. Remove the seeds and the rind, cut into small wedges and then into thin slices. The thinner you make the slices, the easier they will dissolve during the cooking.

Clean the mushrooms and trim away the ends.

Put oil and shallots in a large skillet. Cook on medium-low heat for a few minutes until shallots turn translucent.

Add pumpkin to the pan together with salt, pepper and rosemary. Then, continue cooking for about 5 minutes until the pumpkin starts to soften. Remove the rosemary.

Add the rice, stir for 30 seconds and deglaze white wine.

When the wine is completely absorbed, add the mushrooms and start pouring the broth into the pan a little at a time. Make sure to stir frequently and always wait for the liquid to evaporate almost completely before adding some more.

After about 20 minutes, the rice should be ready and