This is a traditional Greek dish that is savory and warms you right up. Of course, it isn't traditionally made this way, but for the ease and foolproof fork-tender meat, I'm using a slow cooker. This is one of those Greek comfort foods I can imagine myself eating in a small taverna high up in the mountains of Central Greece with the smell of wood fires burning and slow-cooked meats stewing. Because of Greece's varied topography, there are many regions of Greece that have a colder climate, especially in the mountains. Because of this, you'll find much more comfort foods from these places like slow-cooked meats, pies, soups, and stews. For me, it's the combination of cinnamon, clove, and allspice cooking in wine that gives this recipe it's comforting nature. It's not only the flavor that these spices impart on the slow cooker pasta sauce, it's the dizzying aromas. Another thing that makes this dish so comforting is the sheer tenderness of the chicken.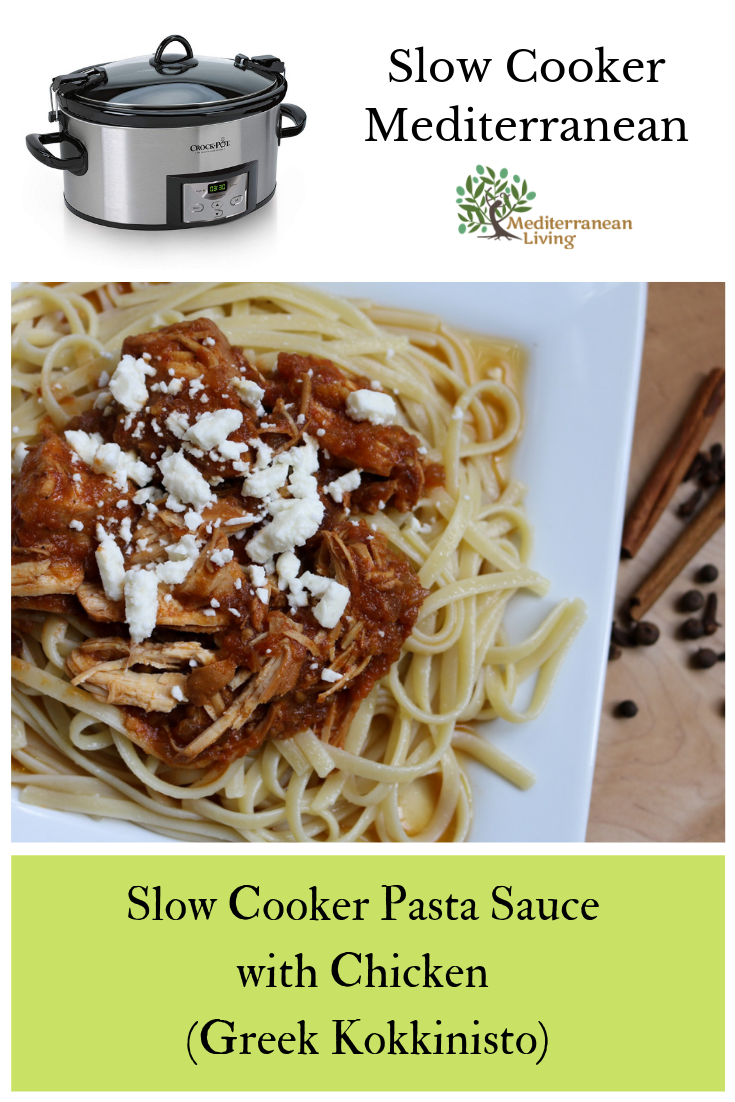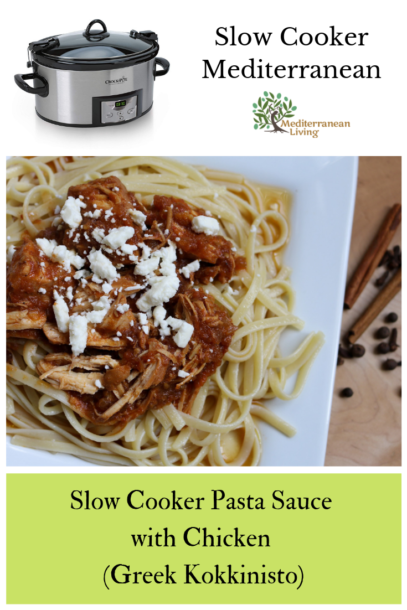 This recipe usually uses beef or lamb. There are versions with chicken too but they use legs and thighs instead of breasts, which I'm using here. Doing this recipe on the stovetop in a pot, it's much harder to get the chicken breast fork-tender in the time it would take for chicken thighs or legs. The chicken breast in the slow cooker always comes out pull apart tender.
This slow cooker pasta sauce is usually served with rice or pasta. Greeks love pasta too, it's not just their neighbors, the Italians, who have a love for the stuff. A big plate of spaghetti with this chicken kokkinisto on top and some grated cheese is a favorite comfort food of many Greeks. If you're looking for more healthy slow cooker recipes, check these out:
Slow Cooker Beef Stew with Eggplant, Zucchini, and Tomatoes
Slow Cooker Chicken Stifado (Greek Chicken Stew)
Moroccan Chicken Tagine with Sweet Potatoes and Raisins (Slow Cooker)
Download our Free e-Book Today!