Spezzatino: The traditional beef stew of Italy
Beef spezzatino is one of the most traditional dishes in Italy where it's eaten throughout the country, from the mountains in the north to the islands in the south. However, in northern Italy most people eat it along with polenta while in the southern regions it's usually served with just a few thick slices of crusty bread. This dish is so common that there are endless variations and basically every family has its own recipe. 
No one knows exactly how it originated, but spezzatino is quite similar to many other beef stews from around the globe, especially the Hungarian Goulash and the French beef Bourguignon. The main differences here are the use of extra virgin olive oil instead of butter for the soffritto and the nice aftertaste given by the Italian herbs. 
Thanks to its deep, hearty flavor and its rich thickness, here in Italy this beef stew is the most typical dish to eat after a hike or any other mountain sport, it doesn't matter if you are on the Dolomites or on Mount Etna. For the same reason, it's also the most popular dish to order in a rifugio, an alpine shelter. According to my father, there is nothing like a nice bowl of hot and smoky beef stew to restore your spirit after a long walk!
Variations to make it your own
Here I'm presenting to you what is arguably the most common variation of spezzatino but of course you can modify it a little according to your taste. For instance, you could use veal instead of beef or add any other ingredients you may like such as mushrooms, tomatoes, peas or roasted peppers.  You can also double the recipe to make it a dish for 4 people.
Finally, this beef stew is one of those traditional dishes that tastes even better the day after as all the flavors have the time to mingle together overnight. If you store it in your refrigerator in an airtight container, it will last you perfectly for a few days.
Enjoy!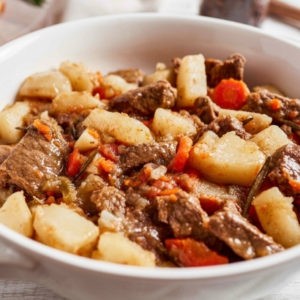 Spezzatino – Italian Beef Stew
Ingredients
1

small

white onion

1

small

carrot

1/2

celery stalk

3

tsp

extra virgin olive oil

1

pound

beef chuck (or any other stew meat), cut into 1-inch cubes

1/8

cup

all-purpose flour

1/4

cup

white wine

2

cups

beef stock

1

spring

rosemary

2

sage leaves

1

bay leaf

1/2

tsp

black peppercorns, partially crushed

Salt, to taste

2

medium

potatoes, around 10 oz total
Instructions
Prepare onion, carrot and celery for the soffritto. Clean the vegetables and chop them finely.

Add the vegetables into a heavy bottom deep skillet along with the extra virgin olive oil. Turn on the heat to medium and sauté for 5 minutes, until the onions start to turn translucent.

In the meantime, pat the beef cubes dry with a paper towel and coat them with the flour.

When the vegetables are ready, add the meat to the pan. Stir for a couple of minutes to sear the beef on all sides.