Although not usually found in restaurants, here in Italy frittata is a very common dish to make at home. For us, it's a classical party starter or a great picnic dish, but you can definitely eat it at any time of the day you prefer, from breakfast to dinner.
The most traditional frittata versions are the ones made with zucchini or onions. However, you can actually use any vegetable that you like and adapt this recipe to your personal taste. In fact, most Italian home cooks make this dish with leftovers greens or with whatever they have on hand. My grandmother used to say that you can actually make a frittata with anything, but the only ingredient you can't skip is cheese.
Frittata is a very simple egg-based dish, super easy to prepare and fast to pull together. Even more, it's tasty both hot and at room temperature. Just to give you an idea, I recall that when I was in primary school, sometimes my mother used to pack me a frittata sandwich for lunch break, and I loved it! In fact, I think this could be a great recipe for those mums that would like to get their kids to eat more vegetables without a battle.
As I was saying, there are endless frittata variations, but this particular one is definitely in the top 5 of my favorites. It calls for a lot of fresh spinach that is good for your health, and the ricotta cheese makes it softer and even more enjoyable. If you want to make this a complete meal, you could pair this spinach and ricotta frittata with a nice seasonal salad.
Prep notes:
The final step to make every Italian frittata is to do the classical flip over, usually with the help of the lid or with a large serving plate. However, if you don't feel confident enough or the pan is too heavy, you can always finish the cooking under the broiler for 2 to 3 minutes. In this case, just make sure to use a frying pan that is oven safe.
Enjoy!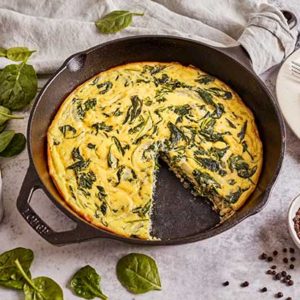 Spinach and Ricotta Frittata (Southern Italy)
Ingredients