The Cuisine of Thessaloniki (Greece)
For
me, and for many other food lovers, Thessaloniki is a gastronomic paradise. Walking down the streets
,
you are pulled in every direction by the aromas of grilled meats, strong coffee, fresh bread, savory pies and the sweet smell of bakeries pumping out tray after tray of syru
p-
laden desserts. There are plenty of ouzo and meze houses that serve small plates of traditional dishes that are influenced by years of occupation from different nations. The city of Thessaloniki has had so many different rulers over the centuries. It is a crossroads for trade, being next to the sea and right on the Egnatia Odos
(
the ancient Roman highway from Italy to Asia), and lies on the southern tip of the Balkan Peninsula. This ideal location has added a wide array of ingredients from all over the Mediterranean and Asia to Thessaloniki's culinary repertoire. These small taverns and ouzo restaurants have kept these traditional plates popular, pairing them with local wine and aperitifs.
If you're trying to taste the cuisine of Thessaloniki you
must
order Soutzoukakia from Smyrna and have some pita and yogurt with it. You won't be surprised to see stuffed zucchini with an egg lemon sauce, or smoked herring with lots of raw onion, lemon, and olive oil. Take a walk through Modiano Market and you see huge stalls of red peppers from Florina
.
T
he local restaurants take complete advantage of
these
with dishes like tig
ania: t
ender pork or chicken fried with peppers and onions
, or
stuffed with spicy feta. Speaking of spicy, the cuisine of Thessaloniki is known to have more spices and
"
spice" in its cuisine due to all of the previous occupations and influences. Tirokafteri, or spicy feta dip, is a combination of feta, spicy peppers, olive oil, and sometimes paprika. This tangy dip is always found on menus and on tables throughout Thessaloniki as a starter. The influence is clear in the hot peppers and paprika, which aren't commonly used in other Greek cooking. Another delicious but surprising dish I
ate
in a suburb of Thessaloniki was fresh shrimp cooked in a hot red pepper sauce.
I had never seen this i
n other places in Greece
,
where seafood is prepared more simply with the usual lemon and olive oil combo.
One night, m
y doctor in Thessaloniki invited my roommate and I to have dinner with
him and
his friends. One of his friends had caught a huge fish that morning and we were going to eat it. We drove about 15 minutes out of the center of the city to a tiny little restaurant where a smiling older couple were waiting for us. The restaurant was just a small room with a few tables and a bunch of old pictures on the walls. There were a few older men drinking beer, smoking, and playing the bouzouki behind us. The meal started
with
them bringing us wine, lots of it.
I
could tell this couple had been preparing food for us for hours because once they started bringing the food, it just didn't stop. The wine was flowing and cigarette smoke filled the air. Ever
y
so often some of the men would break into song because the guy playing the bouzouki was killing it! Then the fish, caught by our Doctor's friend and cooked at the restaurant, came out with an unbelievable presentation. We had lemon and olive oil to pour onto it and the meat was so sweet. It just seemed so normal eating this fresh fish with the head on because
we
knew how fresh it was.
My favorite restaurants
(
and market)
in and around Thessaloniki
Modiano Market
What a market
!
Every hallway at
Modiano Market
has something crazy to see. This is the showcase of the cuisine of Thessaloniki. If you aren't amazed by all the fresh colorful fruits and vegetables coming in from all over Greece, then you are definitely
taken aback
by
all of the hanging whole animals and heads you'll see. Men with giant cleavers on wooden stumps are hacking up all sorts of meats and innards. The fishmongers are yelling out their deals trying to be louder than the
competition
. All of the little Yia Yias are shuffling around
,
filling up
their carts
with fresh food for their families. You can find just about anything in this market, from clothes to home goods, to cleaning supplies, to electronics. Don't miss out on this amazing spot.
Bahtses Restaurant
The reason I love Bahtses is that the prices are extremely cheap for the amazing homemade food.
Prices range from 1-5
euros
,
which
allows you
to
order a bunch of stuff to share. The presentation is great in these little Teflon pans. The rotisserie meats are exceptional, especially the Elassonitiko Souvlas. This is pancetta with peppers and tomatoes cooked on a rotisserie over charcoal. It's not very common so when I saw it on the menu I had to get it. Other favorites are the Horta, Strapatsada, and Turokroketes.
Ta Adelphia Barbecue Restaurant
This place is amazing because it's on a tiny street right near the Modiano market and they grill the meats in
front
of you. Th
e
family is extremely kind and the hospitality is top notch. Watching the guy grill the meats is amazing because he's got the perfect touch and quick hand movements. They have hand cut fries with some shredded cheese on top and all of the meats are grilled with lots of oregano and lemon.
I always order t
he
G
reek salad and Horta here. Whatever they have on the rotisserie is good, like the half chicken. The bread is grilled and cost something ridiculously cheap like 30 cents.
En Plo Seafood Restaurant
There is a spot r
ight on the water
,
overlooking the port of Kalamaria, t
hat
is amazing for seafood. Try the smoked herring, grilled octopus, fried calamari and the tomato keftedhes. You can't go wrong. For about 12 euros each, you and a full table of friends can share a wide variety of small plates and enjoy the local wine with a view.
Bit Bazaar
I love the Bit Bazaar for the hectic atmosphere
;
at night it is always packed with college students. The wine is really cheap and the food is equally cheap. You can expect to eat lots of food for a great price here, and the bustling atmosphere just adds to the ambience. A lot of the kitchens here are open, and the decorations are all very old and traditional. This area was a market at one point but it's been replaced with tavernas and mezedopoleia which crank out delicious traditional food for an amazing price. When I think of eating out in Thessaloniki, this is it! Here's a link to one of the most popular places in Bit Bazaar Ζύθος και Γεύσεις
My Favorite Things to Do Besides Eating
Take a walk by the seaside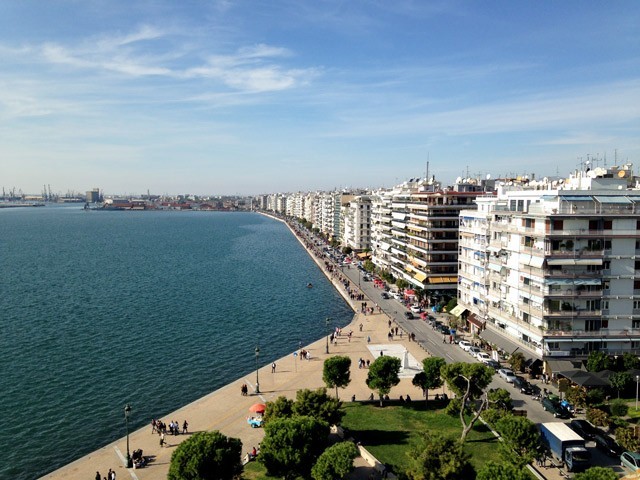 It's always beautiful and you're right next to the sea, ti allo thes? See life happening in slow motion here, there's something magical in the air. Go sit and have a coffee, or just grab one and keep walking.
Visit the Archaeological Museum of Thessaloniki
This museum has so many amazing finds like the Derveni Krater, an artistic masterpiece made in the 4th century BC. This vessel is so impressive in person, I'm dumbfounded as to how
it was made
. This piece
,
and the rest of the museum
,
showed me how powerful of a city state Macedonia really was.
Take a trip to Vergina, to see King Phillip's Tomb
Not only does this place make great beer, they also happen to be
located
on the archaeological remains of
the tomb of
King Philip II
,
the father of Alexander the Great. Thi
s
was by far my favorite museum in Greece. The lighting and the preservation of the tombs and murals are astounding. You can't imagine how much gold
is
in these tombs. You're not allowed to take pictures inside, so just go see the findings for yourself.
[su_gmap address="Vergina 590 31, Greece"]
Go Drinking!
There are so many areas to go drinking with your friends. I don't really need to tell you exactly where to go because everywhere you roam you'll find bars, clubs, cafes, and squares where you can drink and enjoy a night out. Everything's open until the morning and you'
ll
probably end up eating a gyro before you stumble back to your hotel.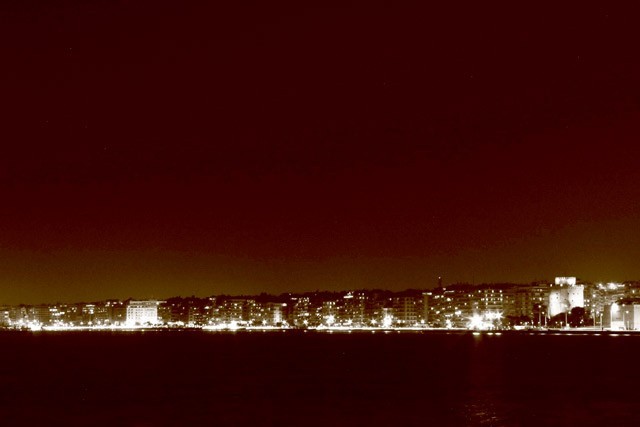 Climb to the top of the White Tower
Walk up the spiral path to the top of the White Tower for one of the best views of the waterfront, and the city.
Check out these 2 other articles written by George during his time in Crete!
Two Weeks of Eating on the Greek Island of Crete
Cooking, Eating, Napping: Life on the Healthiest Island in the World
Also, give our Greek Meatballs with Tomato Sauce (Soutzoukakia) recipe from Thessaloniki a try!
SaveSave
SaveSave
SaveSave
SaveSave
SaveSave
SaveSave
SaveSave
SaveSave
SaveSave
SaveSave
SaveSave
SaveSave
JOIN OUR 10 WEEK PROGRAM
The Next Session Starts Soon!
The Mediterranean Way 10 Week Diet & Lifestyle program teaches you everything you need to know to easily and deliciously get the benefits of the proven healthy Mediterranean diet. Meal Plans, Recipes, Shopping Lists, Weekly Challenges and Lessons, Private Facebook Support Group, Cooking Videos and more!
"This program is a way of life, one which I have adopted successfully, and more importantly one which I have sustained for over one year now. My weight remains steady at 160 pounds (down from 216). My energy levels rival that of someone 20 years younger than me (I'm now 57), enabling me to exercise in any way that I desire, from lifting weights to intense cardio sessions."
— Michael Little
"After completing my 10-week program, I had a regularly-scheduled appointment with my doctor. Because my cholesterol has always been above the normal range (229 last year) I requested that she test it again this year. I'm happy to report that my total cholesterol dropped to 169, which is in the normal range, and all my other numbers improved as well."
— Claire C.
Foods of Crete Cookbook
"The scientifically acclaimed "Mediterranean Diet" is presented at its best here, with the liberal use of olive oil and plenty of vegetable and fish dishes in addition to mezedes (appetizers), meat dishes, desserts, and pretty much every Cretan dish you can think of." - Mary
Our Newsletter
Get seasonal recipe ideas as well as special offers on our online programs, live webinars and video releases. Sent once a week.