Torta Caprese is an Italian flourless chocolate cake recipe. Born on the Isle of Capri, it's made with melted dark chocolate and almond flour. Not to be confused with Caprese salad (buffalo mozzarella and tomatoes), Caprese cake is probably one of the first gluten-free cakes ever made. Its Italian culinary heritage is in the Neapolitan pastry tradition.
Its origin dates back to 1920 from a mistake by Capri pastry chef Carmine di Fiore, who was intent on preparing a cake to serve to some American gangsters who had come to Capri. The story says that he forgot to add flour.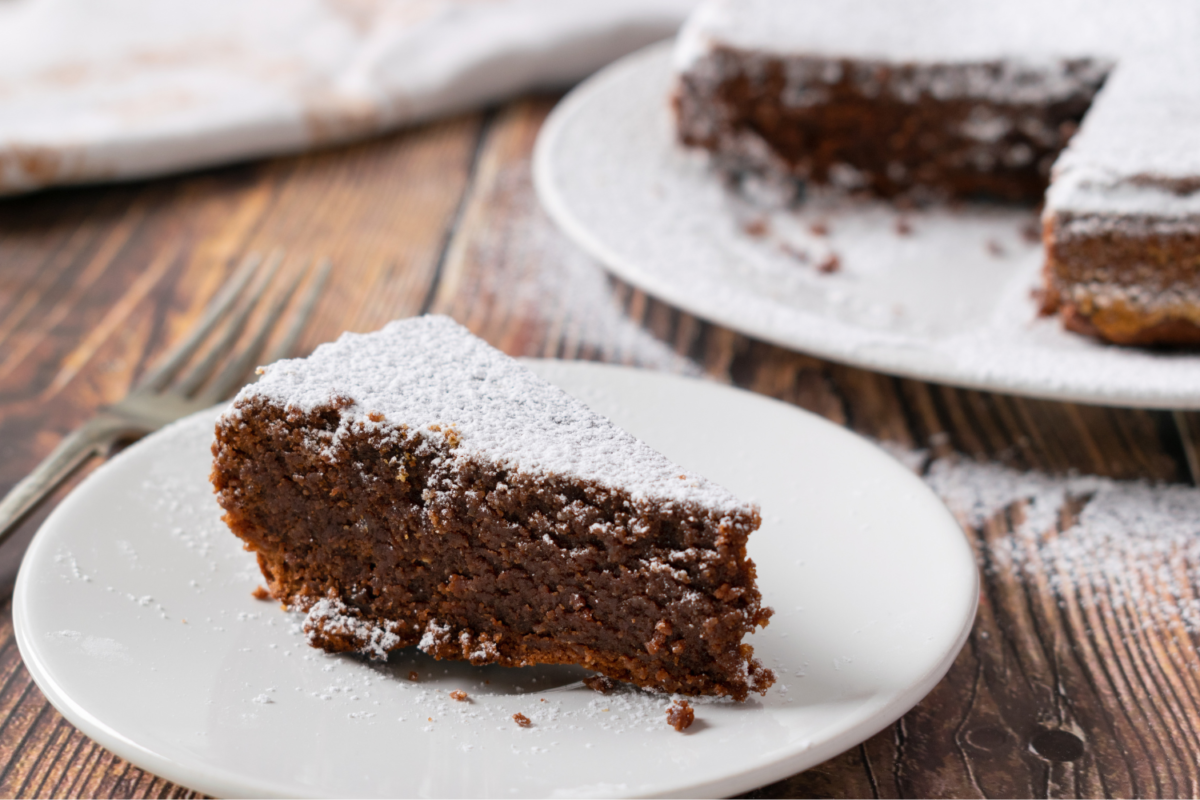 This is an easy cake that everyone can make, with little effort and few ingredients. The consistency is what makes me prefer this cake. Since it is not made with flour and therefore has no dough, the main consistency is kind of crumbling. But every crumbling piece includes the taste of almonds and chocolate; a match made in heaven. The center is very soft, while the slightly crispy crust gives you a contrasting texture.
This authentic Torta Caprese recipe is any Italian mother's favorite cake to make for several reasons. If you are from Naples or around there, it is quite common to find the cake in any home. The reasons are multiple: first of all, it looks like a fully loaded chocolate cake so kids will love it (and adults too). It has no flour so it can be a perfect after-dinner dessert without gluten. Most of the cake's fat comes from almonds and the cake will stay in perfect shape on the kitchen counter for several days without losing its moisture. 
This rich and fudgy chocolate almond flourless cake can also be served for breakfast or an afternoon snack, perfectly paired with a cup of espresso or tea. All these reasons make this cake our favorite choice for a Mediterranean-style cake without losing any of the comforts we are used to from a dessert.
Notes
You want to use high-quality dark chocolate or bittersweet chocolate. You can use chips or chunks. If you'd prefer it to be sweeter, you can use milk chocolate instead.

For easy removal, bake your flourless chocolate almond cake in an 8 or 10-inch springform pan.

For extra flavor, here are some suggestions:

Add a teaspoon of vanilla extract or almond extract.

Add a splash of rum, coffee-flavored liqueur, Grand Marnier, or limoncello. 

Enhance the chocolate flavor with a teaspoon of espresso powder or a pinch of salt.

Add a sprinkle of lemon zest or orange zest.

If you prefer, swap the dusting of powdered sugar for cocoa powder.
FAQs
What is Torta Caprese?
Torta Caprese is an Italian flourless chocolate cake made with melted dark chocolate and almonds. It was named for the island of Capri, where it originated.
Can you make Caprese cupcakes instead?
If you would prefer cupcakes to a flourless almond chocolate cake, line a cupcake pan with paper liners, then fill them three-quarters of the way with the cake batter. Bake the cupcakes for about 22 minutes, until a toothpick inserted into the center comes out clean. The recipe makes 14 cupcakes.
Can you use almond meal instead of almond flour?
The main difference between almond meal and almond flour is that meal is made from raw unpeeled almonds and flour is made from blanched peeled almonds. So almond flour has a finer texture. However, many flourless chocolate cake recipes use almond meal, so you can definitely use it as a substitute if you prefer. 
You can also make your own almond flour with blanched almonds.
Is Torta Caprese gluten-free?
Yes, this Italian flourless chocolate cake is gluten-free.
How do you serve Torta Caprese?
Torta Caprese tastes great with just a dusting of powdered sugar. However, for a more decadent dessert, serve it with fresh strawberries or the berries of your choice and a scoop of vanilla ice cream or a dollop of whipped cream.
How do you store leftover Torta Caprese?
Torta Caprese will last for up to four days when stored in an airtight container at room temperature. Some say it tastes even better the next day.
Can you freeze Torta Caprese?
Yes, you can freeze it. I recommend freezing the individual cake slices by double-wrapping them in plastic wrap and then aluminum foil to prevent freezer burn. They'll last in the freezer for up to three months. When it's time to serve, thaw them at room temperature before dusting them with powdered sugar once more.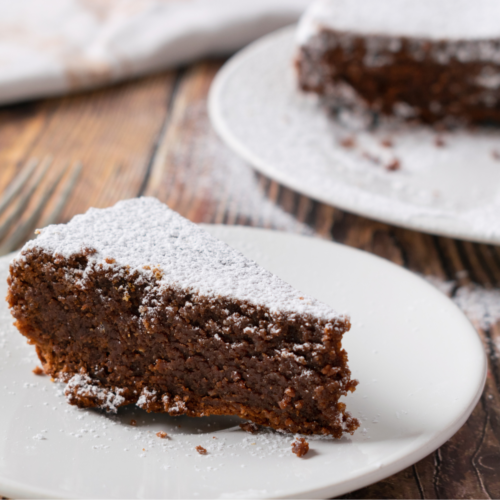 Torta Caprese (Italian Chocolate Cake)
Ingredients
5

ounces

Dark chocolate chips, 70% cacao minimum

11

tbsps

Unsalted butter at room temperature

⅔

cup

Granulated sugar

¼

tsp

Salt

3

large

Eggs at room temperature

¾

cup

Almond flour

Confectioners' sugar
Instructions
Preheat the oven to 350 degrees F. Spray an 8 to 10-inch cake pan with butter or brush some vegetable oil into it, then line the bottom of the pan with parchment paper.

Melt the chocolate in the top part of a double boiler over just simmering water or on low power in a microwave.

In another bowl, beat the butter, sugar, and salt with an electric mixer until the ingredients are fully incorporated.

Add the eggs and almond flour, and keep mixing until the ingredients are well combined.

Allow the melted chocolate to cool slightly then add it to the bowl and keep mixing until all the ingredients are incorporated well and the batter is smooth.

Pour the batter into the prepared pan and bake the cake for 25 to 30 minutes, until a toothpick inserted into the cake comes out clean. Be careful not to overbake the cake; it will get too crumbly if it's baked too long.

Let the cake cool completely before removing it from the pan. Dust the cake with the confectioners' sugar and serve once cold after 30 minutes minimum.
Nutrition
Calories:
450
kcal
Carbohydrates:
31
g
Protein:
9
g
Fat:
34
g
Saturated Fat:
16
g
Polyunsaturated Fat:
1
g
Monounsaturated Fat:
5
g
Trans Fat:
1
g
Cholesterol:
111
mg
Sodium:
121
mg
Potassium:
143
mg
Fiber:
3
g
Sugar:
24
g
Vitamin A:
584
IU
Vitamin C:
0.1
mg
Calcium:
116
mg
Iron:
1
mg