When you travel to Rome, eating a traditional Carbonara is an absolute must. In fact, this classical dish from central Italy is one of the most rich and mouth-watering pasta recipes you might ever taste. The recipe is so famous that you can now count endless variations of it all around the world. No one knows who actually invented this amazing combination of flavors, what is certain is just the origin of the name: carbonara simply means coal worker's style.
The original version of this dish uses just a handful of high-quality ingredients, and its lovely simplicity is hard to match. The downside however, is that traditional Carbonara calls for a good amount of guanciale, an Italian cured meat similar to bacon but way fattier. Therefore, it's not something you should eat on a daily basis.
The good news is that you can use zucchini and cherry tomatoes in place of guanciale. You will get a dish that is just as tasty and satisfactory to eat but definitely healthier and more suited for your well-being. Moreover, this vegetarian version is also a nice variation for whoever follows a meatless diet.
Zucchini and cherry tomatoes apart, the rest of the ingredients and the cooking process are exactly the same as the traditional version of the dish. I hope you will like it as much as I do!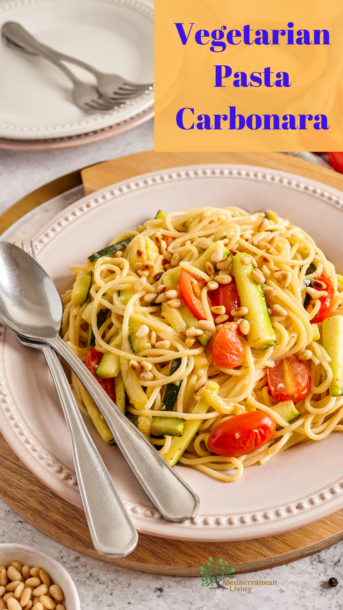 Prep notes:
The only important thing in the preparation of this dish is that when the pasta is ready to drain, you should work as quickly as possible. The residual heat from the pasta in fact, should be enough to finish the cooking of the eggs without the need of putting it back on the stove. The final result will be a silky, smooth and bright yellow sauce.
On the other end, if your pan is too hot or you forget to turn off the heat before adding the yolks, you'll end up with scrambled eggs' pasta, that maybe is just as good, but it's definitely not Carbonara.
Enjoy!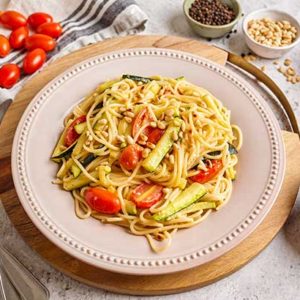 Vegetarian Pasta Carbonara
Ingredients
6

ounces

dry spaghetti

2

small

zucchini

8

cherry tomatoes, halved

1

tbsp

extra virgin olive oil plus one more for drizzling at the end

2

cloves

garlic, chopped

2

large

egg yolks

1/2

cup

Pecorino cheese, grated

1/8

tsp

salt

1/8

tsp

pepper

3

tbsp

pasta wat