This vegetarian Polpettone recipe from Genoa, Italy is brought to us by our Italian recipe developer Giorgia Fontana. Check out her write up below as well as a 'holiday version' of this recipe.
Authentic Polpettone
In general, if you talk about preparing polpettone around Italy, what most people would think about is some kind of meatloaf. The Italian term polpettone in fact, can be literally translated as large meatball. This said, here in Genoa things are a little different: 
In Liguria, the region where I grew up and where I live, the Appennini mountains drop directly into the Mediterranean Sea with no flat land in between. The natural landscape is absolutely stunning, but this leaves basically no space at all for farms and ranches. This is why historically most of our diet is based on fish and vegetables. Even today, most of the traditional Ligurian dishes contain very little to no meat at all. 
For this very reason, even though in the rest of the country polpettone is a meat-based preparation, for us in Genoa is a delicious vegetarian main dish made with potatoes and green beans. I can still remember the puzzled look on the face of my friends from another region when one night I made this polpettone for dinner!
In any case, this vegetarian mishmash is delightful to eat and will leave you full and satisfied. It's not the case that Polpettone alla Genovese is a preparation that every Ligurian nonna knows how to make and that every local osteria has on its menu! 
The steps to follow are very easy and the ingredients extremely inexpensive. In fact, the only slight downside of this recipe is that it takes around one hour to make from start to finish. However, the taste is so good that I promise you it will be completely worth it! Moreover, polpettone is great to eat even at room temperature and for this reason I usually make a little more than necessary so that I can also enjoy it the next day for lunch at work.
Post Holiday Polpettone using Leftover Potatoes and Green Beans
Turning leftovers into new culinary delights is one of my favorite things to do in the kitchen. Polpettone is the perfect dish to make after any holiday where you have leftover mashed potatoes and green beans.  This will cut your prep time down to 5 minutes and possibly be more delicious than the original recipe (depending on your mashed potatoes).  You will start with step #7 of the instructions and mix 1 clove of minced garlic along with the mashed potatoes, green beans, Parmesan cheese, eggs, marjoram and pepper.  Mix well with a fork.  Next, follow steps 8-12.  You will end up with a creamy version of Polpettone that will give a whole new flavor to your leftovers!
Enjoy! 
Having a holiday party?  Click here for some of our favorite holiday party recipes.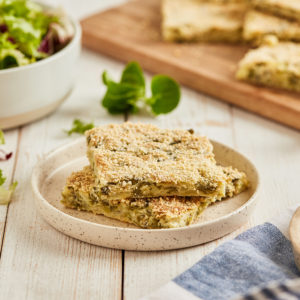 Polpettone Alla Genovese
Ingredients
1.5

pounds

potatoes

(2 large ones)

18

oz

green beans

2

garlic cloves, minced

4

tbsp

olive oil

total

1/2

cup

parmesan cheese, grated

2

eggs

1/8

tsp

dry marjoram

salt and pepper, to taste

1/2

cup

breadcrumbs
Instructions
Put the potatoes in a large pot, cover them in water and salt generously. Cover and bring to a boil. Cook until tender, around 30 minutes.

In the meantime, clean the green beans by snapping off the ends. Boil the beans for 10 minutes in salted water.

When the green beans are cooked, let them cool down for a few minutes, then cut into bite size pieces, around 1 inch in length.

Add one tbsp of extra virgin olive oil and the minced garlic to a frying pan. Then, stir fry the green beans for 5 minutes until fragrant.

Preheat the oven at 400 F.

When the potatoes are nice and soft, peel them and mush them into a large bowl.

To the bowl with the mushed potatoes, add beans, Parmesan cheese, eggs, marjoram and pepper. Taste for salt and mix everything thoroughly.

Brush a 9x12 baking sheet with 1 tbsp extra virgin olive oil and coat it lightly with breadcrumbs

Fill the baking sheet with the potatoes and green beans mixture. Eaven the surface with the help of a spatula.

Coat with an even layer of breadcrumbs and top with the remaining extra virgin olive oil.

Bake for 25 to 30 minutes, until it forms a nice golden crust.

Serve hot or room temperature.
Nutrition
Calories:
218
kcal
Carbohydrates:
25
g
Protein:
8
g
Fat:
10
g
Saturated Fat:
3
g
Polyunsaturated Fat:
1
g
Monounsaturated Fat:
6
g
Trans Fat:
1
g
Cholesterol:
46
mg
Sodium:
170
mg
Potassium:
532
mg
Fiber:
4
g
Sugar:
3
g
Vitamin A:
555
IU
Vitamin C:
25
mg
Calcium:
123
mg
Iron:
2
mg