7 Mediterranean Crockpot Recipes
Updated September 27, 2022
Do you have a Crockpot or slow cooker? These 7 Mediterranean Crockpot recipes are great for busy people who want a delicious homemade meal after a long day! If you spend a little time the night before prepping the ingredients, you'll be ready to throw a meal together quickly that will stew all day while you're at work. There's nothing better than coming home to a house that smells of a homecooked meal. You can guarantee that your slow cooker is going to cook everything all the way through and develop some serious depth of flavor in the process.
Healthy Crockpot Recipes of the Mediterranean
One of the common things that's great about Mediterranean crockpot recipes is that they contain a lot of vegetables and a little bit of meat. This makes them crowd favorites. Most guys love these dishes because they still have some meat, but the vegetables are flavored beautifully from stewing with all of the meat, herbs, spices, and extra virgin olive oil. If you can't get your husband, wife or kids to eat vegetables, this may be your solution!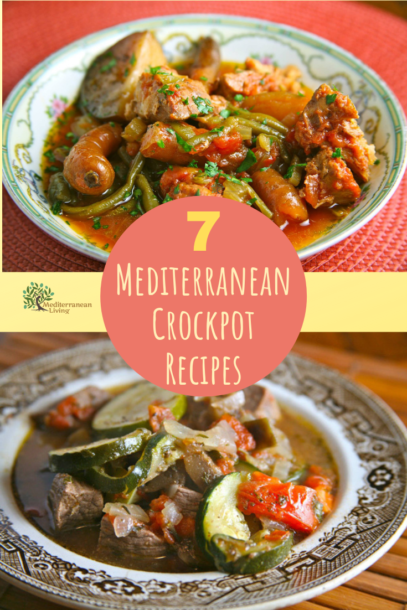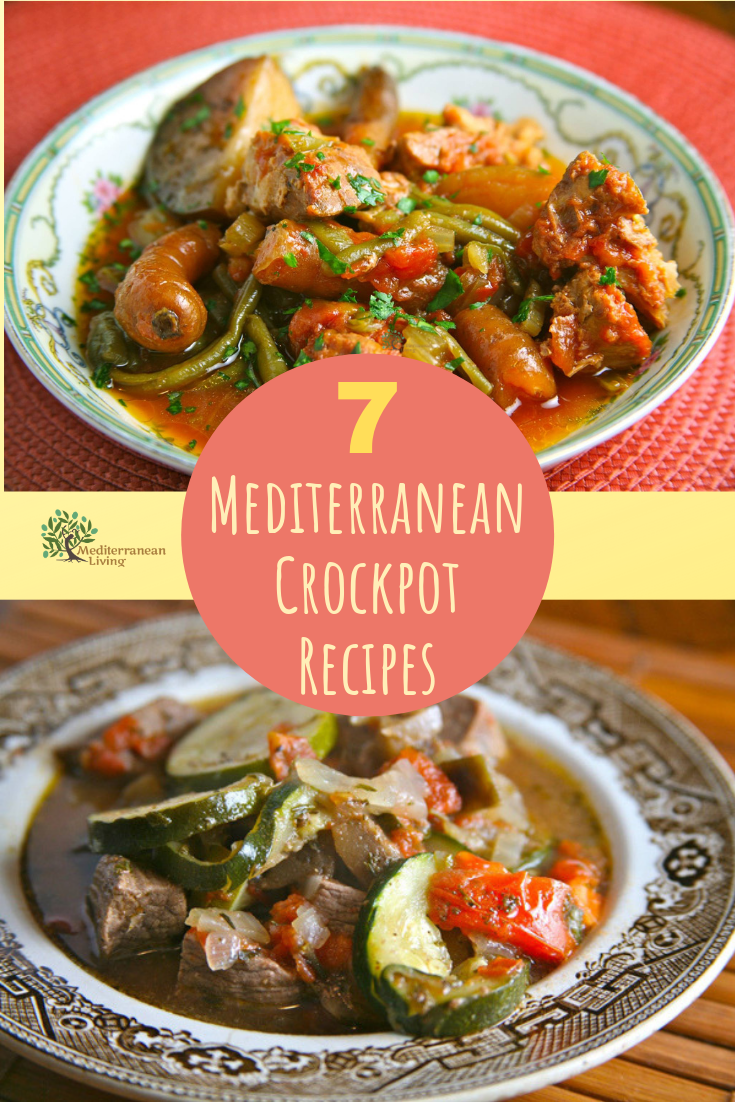 These recipes are inspired by Moroccan and Greek cuisine. The Moroccan recipes are loaded with different spices and exotic flavors that leave you wanting to explore more recipes of this amazing cuisine. The Greek recipes have more of a focus on olive oil and tomato-based sauces that are enhanced by fresh and dried herbs, and some spices too. If you have any crockpot recipes from other Mediterranean countries besides Morocco and Greece, I would love for you to share them with me! We are always looking for inspiration/ideas for new Mediterranean crockpot recipes. They may even be featured on our site one day! Enjoy these recipes and don't forget to rate and comment.
If you have an Instant Pot, check out our Instant Pot recipes!
1. Slow Cooker Moroccan Chickpea Stew with Couscous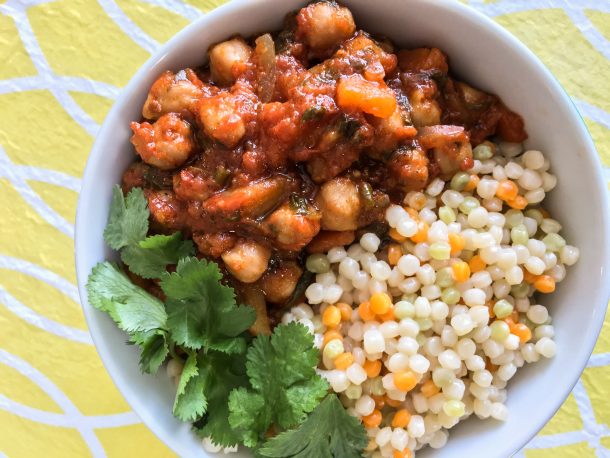 This is my favorite slow cooker recipe to date! Throw this on in the morning and let it cook while you're at work. This chickpea stew is absolutely loaded with flavor! The spices add layer after layer of flavor, without being overpowering. The onions and garlic just melt away after 6 hours in the slow cooker. A good amount of extra virgin olive oil, a half cup to be exact, really brings all of the flavors together and give a richness that this vegetarian recipe deserves! Not to mention, what is a Mediterranean recipe without an excessive amount of olive oil!
2. Green Beans with Pork and Potatoes (Slow Cooker)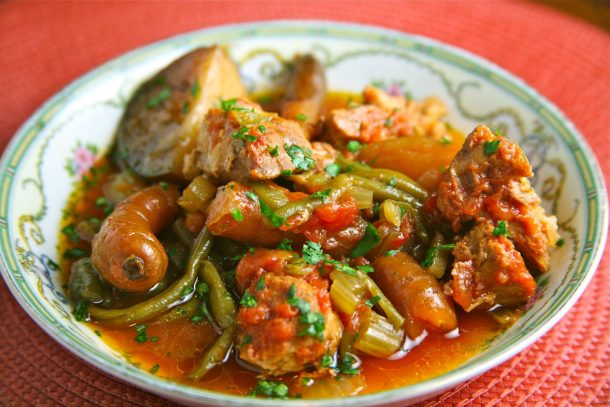 Spend 20 minutes in the morning prepping dinner, throw it into your slow cooker, set the timer and you're good to go.  This is a super-fast and tasty way to get two servings of veggies per bowlful and satisfy the hungry meat eater.  The green beans are cooked to perfection and the meat is tender and full of flavor.
3. Spiced Moroccan Meatballs and Veggies
This recipe has two versions, a stovetop, and a slow cooker. This recipe is inspired by a dish at a traditional Moroccan joint in Western Massachusetts, Mosaic Cafe. Thanks to the spice trade of ancient times, a plethora of spices have found their way into Moroccan cooking. If you've never tried Moroccan cuisine before, it will open up a world of flavors you can't believe you've never explored before.
4. Greek Slow Cooker Pasta Sauce with Chicken (Greek Kokkinisto)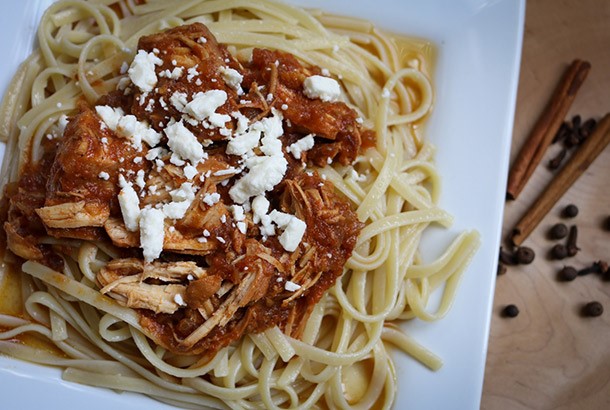 This is a traditional Greek dish that is savory and warms you right up. Of course, it isn't traditionally made this way, but for the ease and foolproof fork-tender meat, I'm using a slow cooker. This is one of those Greek comfort foods I can imagine myself eating in a small taverna high up in the mountains of Central Greece with the smell of wood fires burning and slow-cooked meats stewing.
5. Slow Cooker Beef Stew with Eggplant, Zucchini, and Tomatoes (Greece)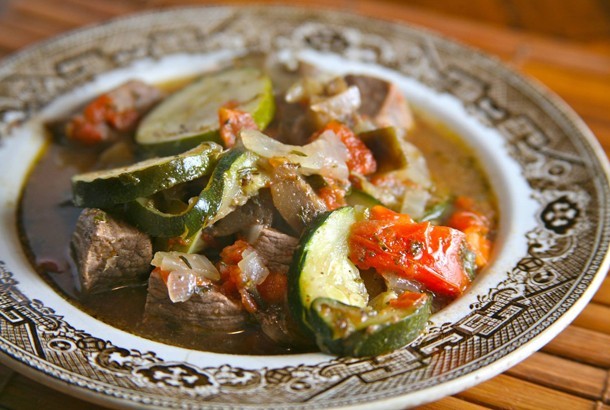 In the original version of this recipe, it needed to simmer on the stovetop for 45 minutes. Instead of tending to the stovetop, you put this on in the morning and go about your day. When you get home, you have a delicious tender beef stew waiting for you. The beef becomes spoon-tender. Yes, I said spoon-tender, not fork-tender.
6. Moroccan Chicken Tagine with Sweet Potatoes and Raisins (slow cooker)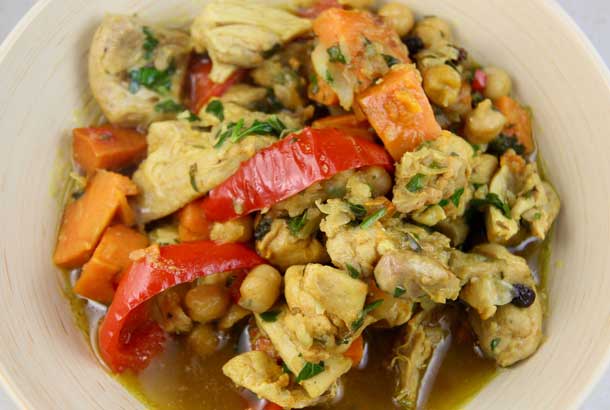 Here's how to make flavorful Moroccan chicken tagine in less time than it would take to order it in a restaurant.  Spend 15 minutes in the morning preparing all the ingredients, throw it in a slow cooker, stir well, go to work (or whatever you do during the day), come home and eat!  I find it so welcoming to smell a home cooked meal when I walk in the door at then end of the day.  A Moroccan tagine is a traditional dish of the Mediterranean Diet named after the earthen pot that is used to cook it in.  Making a tagine in a slow cooker (crock pot) creates a very similar tasting dish to the original earthenware pot.  An advantage of making this at home is that you will save a lot of money over ordering it at a restaurant.
7. Slow Cooker Chicken Stifado (Greek Chicken Stew)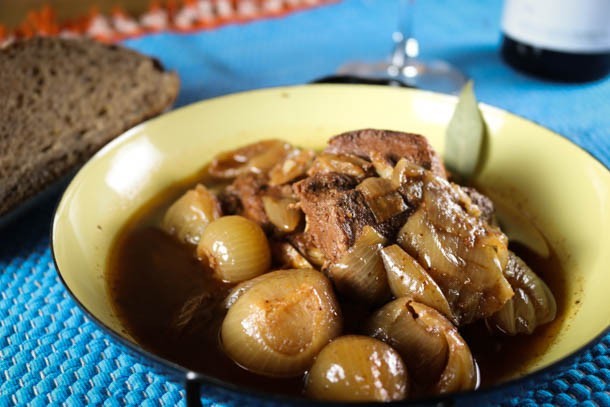 Chicken stifado (Greek chicken stew) is one of the most flavorful Greek dishes of all. The combo of cinnamon and orange compliments meat perfectly and make this dish homey and warm. The pearl onions are essential because they soak up all the flavor of the meat and spices. I do this stifado recipe with chicken breast because the traditional meat for this is rabbit, which is harder to find. The chicken breast is low in fat and cooks down to fork tender in the slow cooker. Traditional stifado usually requires much more care and way more steps than this version. The flavor, however, comes out the same. You're going to need some good crusty bread because stifado creates an insanely good sauce to dip in.