I have eaten amazing foods from all parts of the Mediterranean, including spinach pies made by villagers in Crete, Tortilla Espanola eaten at a street cart in Spain, and chocolate croissants in France. But regardless of how many different cuisines and recipes I have tried, Tagine Kefta remains in my top five list of Mediterranean favorites. This dish is also known as Spiced Moroccan Meatballs and Veggies. Kefta, (or Kofta) is a meatball, usually made of lamb or beef, that is eaten in most Mediterranean countries and is a staple of the diet.  The spices are what give this recipe its unique Moroccan flair.  The mix of fresh cilantro with cumin, chili powder, and paprika impart a delicious savory flavor. Some Moroccan Kefta recipes also call for cinnamon and nutmeg.
This recipe comes from our friend Hafid Assab who hails from Morocco and owns the wildly popular Mosaic Cafe in our hometown of Northampton, Massachusetts.  Almost everyone who works there knows me by name as I eat there at least twice a week!
Don't let the long list of ingredients (mostly spices) fool you into thinking that this is a difficult recipe.  It consists of chopping veggies, making meatballs, and then mixing everything together and letting it stew.  Even though this recipe calls for a Dutch oven, you can cook it on the stovetop with any heavy pot with a good tight cover.  I have also made this recipe many times in the crockpot.
Crockpot Instructions:
Cook the meatballs for a few minutes in a frying pan with olive oil. This helps create a crust that holds them together when cooking in the crockpot for such a long time.
Add the meatballs and the rest of the ingredients to the crockpot and cook on high for four hours.
Serve with a Greek salad or our Apple, Walnut and Gorgonzola Salad with Dijon Vinaigrette.
– Bill Bradley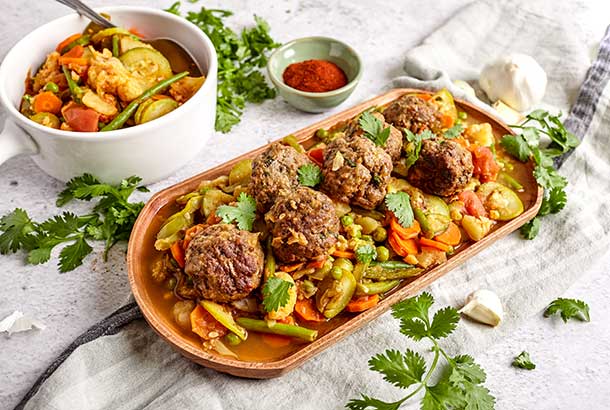 Spiced Moroccan Meatballs and Veggies (Tagine Kefta)
Ingredients
1 1/2

pounds

ground beef

For Kefta

1

tsp

Black pepper

2

tsp

cumin

1

tsp

Chili Powder

1/2

tsp

salt

1

tbsp

chopped fresh Cilantro

2

tsp

garlic, chopped

1

tbsp

paprika

1/2

onion, minced

1/2

cup

extra virgin olive oil

Main Tagine

2

big onions, cut into quarters

2

tbsp

cilantro, chopped

1 1/2

tsp

garlic, chopped