These delicious stuffed flat breads are made with a variety of fillings. My favourites are spinach with cheese, and minced/ground meat with onions. Gozleme is cooked on a hot griddle and being a popular street food, there are always gozleme stalls in markets and cafes. Enjoy gozleme with a glass of Turkish tea, cay, or our traditional yoghurt drink, ayran.
This recipe is for dear David and Claire, for their love of Turkish cuisine.
Check out Ozlem's website here! https://ozlemsturkishtable.com/
Click here for our interview with Ozlem Warren and our book review of Ozlem's Turkish Table.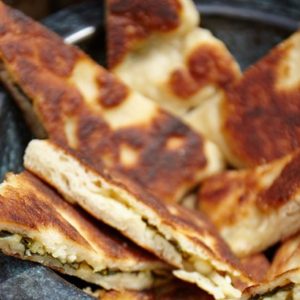 Anatolian Flat Breads (Gozleme) with Spinach and Cheese
Ingredients
1

pound

all-purpose flour

1

packet

instant dry yeast

pinch of salt

3

tbsp

extra virgin olive oil

2

tbsp

plain yogurt

1 1/4

cups

warm water
For the Filling:
1

cup

baby spinach

1

onion, finely chopped

1

tsp

urkish red pepper flakes or chili flakes

1

cup

feta cheese

1

tbsp

extra virgin olive oil
Instructions
Combine about 3/4 cup warm water, yeast and a pinch of salt in a small bowl and stir to dissolve. Stand it in a warm place for 5 minutes or until bubbles form on the surface.

Sift the flour into a large bowl. Make a well in the middle and pour in the yeast, water and salt mixture, olive oil, yoghurt and the remaining warm water.

Using your hand, draw in the flour from the sides and work the mixture into a dough. Knead thoroughly to form a soft dough. If it gets sticky, have a little olive oil in your hands to shape the dough.

Divide the dough into 5 pieces, knead and roll into balls. Place the balls on a floured surface, cover with a damp cloth and leave to rest for 1 hour, or until the dough is doubled in size.

Meanwhile, prepare the filling. Chop the washed spinach leaves roughly. Knead the onions, spinach, olive oil and red pepper flakes for a few minutes. Stir in the feta cheese and combine well.

On a lightly floured surface, roll out each of the balls of the dough with a rolling pin into thin, flat rounds, about 16in diameter. Sprinkle a little flour as you roll the dough so that the dough won't stick. Roll until you achieve a thin sheet of a flat round.

Fold the top and bottom sides of the dough in a way for the edges to meet in the middle. Spread about 2 ½ tablespoons filling into the middle part of this flat sheet. Then fold the right and left edges over the filling, making sure all the filling is safely covered. Press the edges together well to seal. Repeat the same procedure for the rest of the dough balls.

Heat a griddle or a non-stick pan, and brush one side of the gozleme with a little olive oil and place on the pan to cook for about 2-3 minutes, or until golden brown. Brush the uncooked side with a little olive oil and then flip it over. Cook for another 2-3 minutes, until golden brown. Cook the rest of the gozleme the same way.

Brush both cooked sides of gozleme with a little olive oil - this will keep the gozleme moist. You can either roll the gozleme to serve, or you can cut in halves or quarters.

Afiyet Olsun (means 'May you be happy and healthy with this food you eat").
Nutrition
Calories:
529
kcal
Carbohydrates:
74
g
Protein:
15
g
Fat:
19
g
Saturated Fat:
6
g
Polyunsaturated Fat:
2
g
Monounsaturated Fat:
10
g
Cholesterol:
28
mg
Sodium:
356
mg
Potassium:
215
mg
Fiber:
3
g
Sugar:
3
g
Vitamin A:
816
IU
Vitamin C:
3
mg
Calcium:
186
mg
Iron:
5
mg