These delicious stuffed flat breads are made with a variety of fillings. My favourites are spinach with cheese, and minced/ground meat with onions. Gozleme is cooked on a hot griddle and being a popular street food, there are always gozleme stalls in markets and cafes. Enjoy gozleme with a glass of Turkish tea, cay, or our traditional yoghurt drink, ayran.
This recipe is for dear David and Claire, for their love of Turkish cuisine.
Check out Ozlem's website here! https://ozlemsturkishtable.com/
Click here for our interview with Ozlem Warren and our book review of Ozlem's Turkish Table.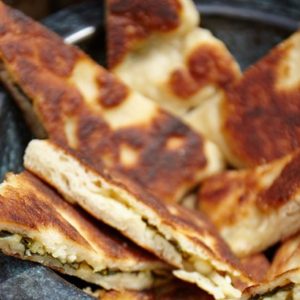 Anatolian Flat Breads (Gozleme) with Spinach and Cheese
Ingredients