This arugula salad with sweet potato recipe is brought to us by Diane Kochilas, an award-winning author of 18 cookbooks as well as the host, creator and producer of the PBS show "My Greek Table". This recipe is featured in her book "Ikaria: Lessons on Food, Life, and Longevity from the Greek Island Where People Forget to Die". You can purchase a copy of her cookbook by clicking here.  The island of Ikaria has the highest rates of people to live healthfully over 90 years old in the world.  It is one of the famous blue zones where the healthiest people live.
Arugula Salad with Sweet Potato by Diane Kochilas
Several farmers on Ikaria mentioned to me the sweet potatoes they remember as children, in the 1940s and '50s, and that most were grown on the terraced steps in the windswept southern town of Manganitis. My neighbor Titika, for example, recalled the simplest and most desired "dessert" of her youth: "We had sweet potatoes. That's it. With nothing on them. Just baked under the ashes in the fireplace. What a treat."
Sweet potatoes were also the tuber of choice for a salad, recounted to me by Myrsina Roussou, native of Manganitis. The addition of goat cheese or feta is mine, and totally optional. The original version is typical of the simple, pared-down dishes that nourished the generation that today is reaching triple-digit ages uniquely sound of mind and body. But the combination of dense, creamy sweet potatoes and sharp, peppery arugula seemed surprisingly sophisticated to me, even though this was the food of dire poverty.
Loving this arugula salad with sweet potato recipe? Try another one of Diane's traditional Ikarian recipe for soufico!
Also, check out Diane's article on the food of Ikaria here.
Purchase her cookbook: "Ikaria: Lessons on Food, Life, and Longevity from the Greek Island Where People Forget to Die" by clicking here.
For information about Diane's cooking classes and recipes go to her website: www.dianekochilas.com
Finally, check out Bill Bradley's article and recipe about Ikaria and the delectable recipe for Briam.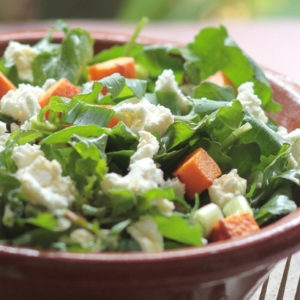 Arugula Salad with Sweet Potato (Ikaria)