This eggplant casserole recipe is brought to us by Diane Kochilas, an award-winning author of 18 cookbooks as well as the host, creator and producer of the PBS show "My Greek Table". This recipe is featured in her book "Ikaria: Lessons on Food, Life, and Longevity from the Greek Island Where People Forget to Die". You can purchase a copy of her cookbook by clicking here. The island of Ikaria has the highest rates of people to live healthfully over 90 years old in the world.  It is one of the famous blue zones where the healthiest people live.
Eggplant Casserole (Ikarian Soufico) by Diane Kochilas
Soufico is arguably the best-known dish on Ikaria, the one recipe that almost everyone on the island cites as being completely unique to the place. And yet, its origins are unclear. It belongs to the general category of Mediterranean dishes, from ratatouille to caponata, where the roster of summer vegetables-eggplants, zucchini, peppers, and tomatoes – works so harmoniously together in one pot. Its name might derive from the Italian soffocare, which means "to smother," perhaps because of the way the vegetables are so deliciously smothered in olive oil; local sleuths, however, say it derives from sou'fika or s'afika in the local dialect, which means "I left you some," as in it is so good, one always leaves a portion for the man in the family should he return home.
To me what is most interesting is that in the 99 square miles that make up Ikaria, there are at least four versions: one from the north side; one from the south (in which the vegetables are cut up into small pieces and fried all together); a third, made in the fall, with pumpkin and peppers; and a very old version that has neither eggplants, zucchini, peppers, nor potatoes but is an unlikely combination of herring, tomatoes, and onions.
The version below is from the northern part of the island, with one change by me: I bake the vegetables instead of frying each of them individually, in order to make the dish lighter.
Loving this eggplant casserole recipe? Try another one of Diane's traditional Ikarian recipes for Arugula Salad with Sweet Potato!
Purchase her cookbook: "Ikaria: Lessons on Food, Life, and Longevity from the Greek Island Where People Forget to Die" by clicking here.
For information about Diane's cooking classes and recipes go to her website: www.dianekochilas.com
Finally, check out Bill Bradley's article and recipe about Ikaria and the delectable recipe for Briam.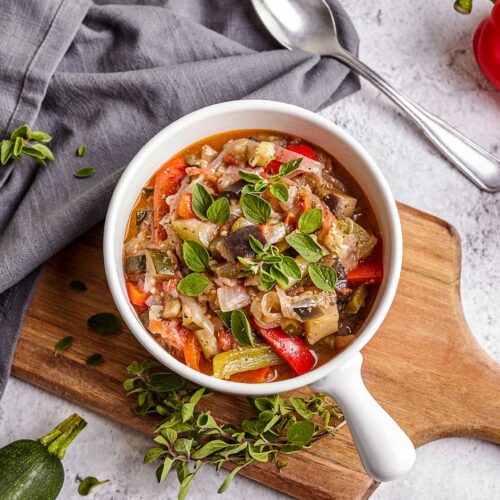 Eggplant Casserole (Ikarian Soufico)
Ingredients
olive oil for frying or brushing

2

medium

eggplants cut into 1/4-in/6-mm-thick rounds

salt

2

large

green bell peppers/capsicums seeded and cut into 1-inch/2.5 cm strips

4

medium

zucchini cut into 1/4-in/6-mm-thick rounds

3

large

onions finely chopped

3

cloves

garlic, finely chopped

2

large

potatoes peeled and sliced into 1/4-in/6-mm-thick rounds

1/2

cup

extra-virgin Greek olive oil

Pepper

3

large

firm ripe tomatoes, grated
Instructions
In separate colanders, lightly salt the eggplant, peppers, and zucchini. Drain for 1 hour. Wipe dry without washing.

In a large frying pan, heat about 1/4 in/6 mm of olive oil over medium heat. Lightly cook the onions and garlic until wilted, about 6 to7 minutes. Remove with a slotted spoon and set aside on paper towels to drain.

Replenish the oil in the frying pan if necessary. Add the potato slices and sauté lightly until their edges begin to color. Lightly sauté all the remaining vegetables separately and set aside to drain on paper towels.

Alternatively, if you don't want to fry, you can preheat the oven to 350F/170C, oil several baking sheets and spread each group of vegetables on individual sheets, brushing them with additional olive oil. Bake for about 15 - 20 minutes, turning once, to soften and color very lightly.

Next, layer the vegetables in a clay or ovenproof glass casserole: Pour about 1/4 cup/60 ml of olive oil into a large, wide pot or Dutch oven. Spoon two tablespoons of the grated tomato and then two tablespoons of the onion-garlic mixture over the bottom. Strew a layer of potatoes and sprinkle with a little salt, pepper and dried oregano. Next, add a little more tomato, onion-garlic, and a layer of eggplant. Press down lightly with the back of a large serving spoon. Sprinkle with a little salt, pepper and dried oregano, then strew a few of the cooked peppers on top. Then, layer the zucchini, and more of the tomato and onion- garlic-salt-pepper-oregano. Press down. Repeat the layering and pressing down, finishing with a layer of eggplant and some tomato-onion-garlic. Drizzle 1/4 cup of olive oil over the top.

Bake at 350F/170C for about 45 minutes to one hour, or until the vegetables are very soft and lightly caramelized. Remove, cool slightly and serve. Notes: You can make soufico in exactly the same way as a stovetop casserole, cooking over very low heat for about an hour.
Nutrition
Calories:
533
kcal
Carbohydrates:
48
g
Protein:
8
g
Fat:
37
g
Saturated Fat:
5
g
Polyunsaturated Fat:
4
g
Monounsaturated Fat:
26
g
Sodium:
31
mg
Potassium:
1636
mg
Fiber:
12
g
Sugar:
17
g
Vitamin A:
1261
IU
Vitamin C:
113
mg
Calcium:
84
mg
Iron:
3
mg