This eggplant casserole recipe is brought to us by Diane Kochilas, an award-winning author of 18 cookbooks as well as the host, creator and producer of the PBS show "My Greek Table". This recipe is featured in her book "Ikaria: Lessons on Food, Life, and Longevity from the Greek Island Where People Forget to Die". You can purchase a copy of her cookbook by clicking here. The island of Ikaria has the highest rates of people to live healthfully over 90 years old in the world.  It is one of the famous blue zones where the healthiest people live.
Eggplant Casserole (Ikarian Soufico) by Diane Kochilas
Soufico is arguably the best-known dish on Ikaria, the one recipe that almost everyone on the island cites as being completely unique to the place. And yet, its origins are unclear. It belongs to the general category of Mediterranean dishes, from ratatouille to caponata, where the roster of summer vegetables-eggplants, zucchini, peppers, and tomatoes – works so harmoniously together in one pot. Its name might derive from the Italian soffocare, which means "to smother," perhaps because of the way the vegetables are so deliciously smothered in olive oil; local sleuths, however, say it derives from sou'fika or s'afika in the local dialect, which means "I left you some," as in it is so good, one always leaves a portion for the man in the family should he return home.
To me what is most interesting is that in the 99 square miles that make up Ikaria, there are at least four versions: one from the north side; one from the south (in which the vegetables are cut up into small pieces and fried all together); a third, made in the fall, with pumpkin and peppers; and a very old version that has neither eggplants, zucchini, peppers, nor potatoes but is an unlikely combination of herring, tomatoes, and onions.
The version below is from the northern part of the island, with one change by me: I bake the vegetables instead of frying each of them individually, in order to make the dish lighter.
Loving this eggplant casserole recipe? Try another one of Diane's traditional Ikarian recipes for Arugula Salad with Sweet Potato!
Purchase her cookbook: "Ikaria: Lessons on Food, Life, and Longevity from the Greek Island Where People Forget to Die" by clicking here.
For information about Diane's cooking classes and recipes go to her website: www.dianekochilas.com
Finally, check out Bill Bradley's article and recipe about Ikaria and the delectable recipe for Briam.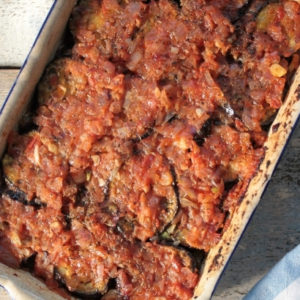 Eggplant Casserole (Ikarian Soufico)