In 2014, I visited Greece for the first time and had my first Authentic Greek Salad.  I had waited my entire life to eat real  Greek food seeing that I'm half Greek.  I was also hoping to collect some authentic Mediterranean Diet recipes.
I arrived in Athens and was set to go on a study tour throughout the country. I got to my hotel and the study group was waiting for me to go to dinner together. I put my luggage in my room and we walked through the busy streets to a traditional Greek taverna. The waiter brought us bread with extra virgin olive oil to dip. The oil was so good. Then he brought the greek salad. This was a moment I will never forget. I took one bite of a red, juicy tomato slice and I thought to myself "What have I been eating my whole life?!" This was the sweetest, most flavorful, deep red, and beefy tomato I had ever sunk my teeth into.
Then I tasted the feta…. I literally asked the other students if we ordered the salad with goat cheese instead of feta. They laughed at me and said no, this is what the feta is like in Greece. I was in heaven already one hour into my trip. I began to question again what feta had I been eating all these years that I thought was so good? There's something that happens with a real Greek salad.  The tomatoes have so much juice, that by the time the salad is mostly eaten, the oil, tomato juice, feta, onion, and oregano have made this amazing dipping mixture.
Anyone who has eaten a real Horiatiki Salata knows that this is the absolute best and healthiest juice to dip your bread in. I could eat this salad twice a day everyday, and we did on this study tour. The salads got even tastier the farther out of the city and into the countryside we got. To me this is the best salad in the world. A summer meal without this salad just isn't happening.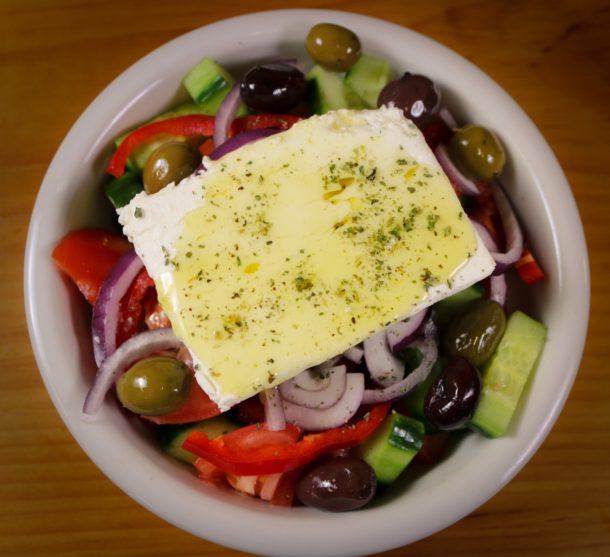 SaveSave
SaveSave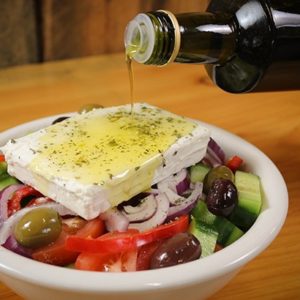 Authentic Greek Salad (Horiátiki Salata)
Ingredients
3

medium

tomatoes, quartered

1

large

cucumber, peeled and sliced

1/4

red onion, cut into strips

1/4

red bell pepper, cut into thin strips

10

kalamata olives

6

ounces

feta cheese

1/4

cup

extra virgin olive oil

1

splash

red wine vinegar or lemon juice

1/2

tsp

oregano

salt and pepper, to taste
Instructions
Add all veggies and olives to a bowl.

Top with feta cheese, olive oil, lemon juice (or vinegar), and oregano. Salt and pepper, to taste.
Nutrition
Calories:
546
kcal
Carbohydrates:
17
g
Protein:
15
g
Fat:
48
g
Saturated Fat:
17
g
Cholesterol:
76
mg
Sodium:
1173
mg
Potassium:
734
mg
Fiber:
4
g
Sugar:
12
g
Vitamin A:
2059
IU
Vitamin C:
32
mg
Calcium:
479
mg
Iron:
2
mg