In a previous chapter of my life, I was a fishmonger.  Here I learned cod recipes from this country as well as many Mediterranean Diet recipes.  At first, in a supermarket, but after college, I was a buyer, cutter, and purveyor at a small family-owned fish market.  Even though I grew up by the ocean, it wasn't until then that I began to enjoy eating fish.  That is when I learned what really good fish should taste like.  If you are lucky enough to have a local market near you, I suggest paying them a visit before you settle for what is offered at the fish counter in your average grocery store.
A fresh cod fillet should be glistening and firm with no odor at all.  Ask about it.  A knowledgeable and trustworthy fishmonger will happily indulge your curiosity.  For this recipe, I like to find a large fillet because it presents nicely when displayed in an attractive baking dish. You can fold the thin tail piece under to adjust the length and to even out the cooking a bit.  It's not always easy to find a large fillet, but don't worry… two laid out side by side will work nicely.  Work with what you have, but pick the better fish rather than fret over the size of the fillet.
I reverse-engineered this recipe after ordering the dish at Pera Mediterranean Bistro in Williamstown, MA.  In it's most distilled form, beside the fish, the ingredients include olives, sun-dried tomato, pepperoncini, basil, feta and of course, good olive oil.  I've added some ingredients here, and I encourage you to improvise with whatever you have that fits the palette of flavor created by these condiments.  I've included artichoke hearts, onions, roasted red peppers, and capers all to good effect but limit the variety.  Any number of fresh vegetable sides and starches pair well with this light and fresh main dish.
When the oven is preheated, you can ask a special person to assist you or invite everyone to help decorate the fillet as a symbolic contribution to the meal.
I hope you enjoy!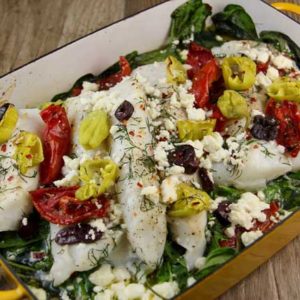 Baked Cod with Sun-Dried Tomatoes and Olives