Beans and greens are popular in the southern U.S., but did you know they are eaten all the time in the Mediterranean?  Mediterranean Diet recipes with greens and beans are cooked in extra virgin olive oil and are usually vegan.
You're definitely going to want to use a lot of extra virgin olive oil for this dish because that's where most of the flavor comes from.  You can use whatever greens are available to you. I recommend swiss chard, collard greens, spinach, or dandelion greens, but any greens will work.
In the Mediterranean, they use the greens that are in season. A very recent study just found that eating greens daily slows cognitive decline considerably. It's well known that dark leafy greens are very healthy for you, but this is more proof to eat them daily. I love this dish because it's filling and satisfying.
This dish is delicious served with almost any kind of salad.  I love it with a Greek Salad.  It is also a great side to most fish dishes or soups such as Chicken Leek Soup with White Wine.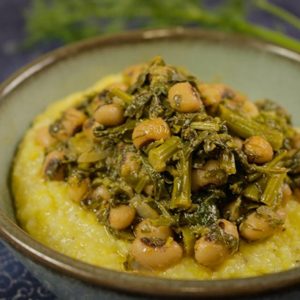 Beans and Greens over Polenta
Ingredients
1/2

cup

extra virgin olive oil

1/2

onion, chopped

1/2

cup

chopped parsley

1/2

cup

chopped dill

1

bunch

swiss chard, washed and chopped

2

cans

black eyed peas, drained

1

tbsp

tomato paste

1

lemon, juiced

salt and pepper, to taste
FOR POLENTA
4

cups

water or vegetable broth

1

cup

cornmeal

1

clove

garlic, minced

1/2

cup

soy, almond or regular milk

2

tbsp

extra virgin olive oil

salt and pepper, to taste
Instructions
Saute the onion in the olive oil on medium heat in a pot or deep saute pan.

When the onion starts to sweat, about 2 minutes, add the parsley and dill. Saute for 2 minutes.

Add the swiss chard and cook for 2 minutes. just to slightly wilt it.

Add the beans, tomato paste, lemon juice, and seasoning. Simmer for 30 mins.

Bring the water to a boil in a small pot.

Pour the cornmeal in and lower the heat to medium low.

Cook the polenta for 15 mins stirring frequently to prevent sticking and burning the bottom of the pan.

At this point the polenta should be thick. Before removing from the heat, add milk, garlic, olive oil, salt and pepper, and stir well.

Top the polenta with a spoonful of beans and greens and enjoy!
Nutrition
Calories:
443
kcal
Carbohydrates:
32
g
Protein:
8
g
Fat:
32
g
Saturated Fat:
5
g
Polyunsaturated Fat:
4
g
Monounsaturated Fat:
23
g
Sodium:
578
mg
Potassium:
469
mg
Fiber:
7
g
Sugar:
5
g
Vitamin A:
3156
IU
Vitamin C:
22
mg
Calcium:
60
mg
Iron:
4
mg