This cheesy potato casserole recipe was inspired by the version that I enjoyed at Dounias in Drakona, Crete.  This mountain taverna was so unique.  Most of the dishes were prepared in clay pots over wood fired stoves right in front of the main house and all the ingredients were raised or harvested right on the owner's farm.  We ate in a timber framed open-air pavilion across the street that looked out over the most beautiful views of high mountains and plunging valleys terraced with olive groves and covered with wild flowers and wild herbs.
Boureki is generally a layered dish of potatoes, zucchini and cheeses baked in generous amounts of olive oil.  At Dounias (ΝΤΟΥΝΙΑΣ), they layered in some pumpkin and mountain herbs that brought the dish to a sublime combination of comfort food and exquisite culinary inventiveness.
In my version, and in my cooking in general, I like to use what I have which is often what is available at my local CSA, Mountain View Farm.  So, I have had success making variations of this cheesy potato casserole using fresh fennel, butternut squash and I've even made it without cheese at all when there are guests who are sensitive to dairy.
One of the key notes that I took from that taverna in the mountains was the importance of the aromatic herbs in the flavor profile, so I can't stress enough that the fresh mint is crucial to this dish.  I also used some fresh sage that plays nicely with the squash layer.  If you don't have fresh oregano, that's fine, but fresh is going to be best.  Finally, if you like a little kick, you can choose to sprinkle some red pepper flakes in one of the layers so that some bites will have a tingling rush of heat.
Another important tip that I will share with you because I learned the hard way on this:  Make sure your top layer is NOT potato.  The thinly sliced spuds will turn into chewy potato chips in the heat of the oven.  Finish the top layer with zucchini instead which stays moist and will brown to a caramelized texture.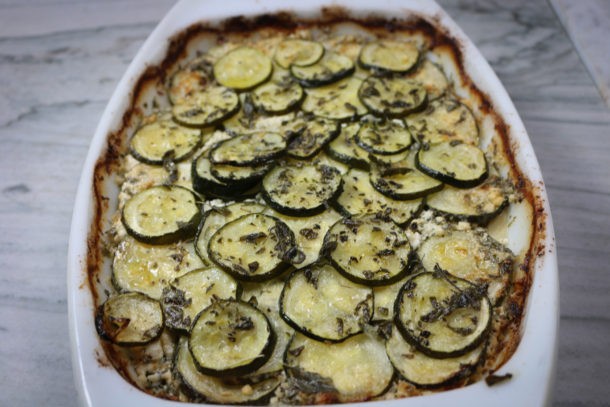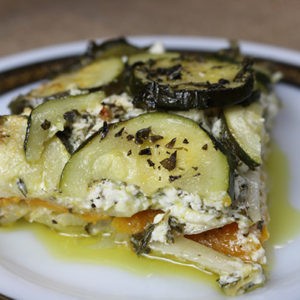 Boureki (Cheesy Potato Casserole with Zucchini and Fresh Herbs)