Torta: A Traditioanal Mediterranean Breakfast
We are excited to share this guest post from India Wilkerson who shares a traditional Italian Torta recipe from her host Mother, Thea, in Italy.  India, and her classmate Sophie, were part of a Boston University trip to Italy led by BU professor Paula Quatramoni.  This torta is a rich Mediterranean breakfast that would be served on special occasions.
Thea is an excellent cook and the Italian ingredients she uses exhibit a freshness that I rarely experience in even the best home-cooked meals here in the States. When Sophie and I asked her if she would give us an impromptu cooking lesson, she was excited to share her process with us and I was excited to see her in action.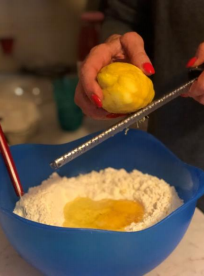 We measured for you
While her measurements weren't precise and the ingredients were subject to change with each preparation, the way she bounced around the kitchen and explained her process with a smile on her face showed that being in the kitchen was not merely a chore to get food on the table, but a pleasure. I think it was Thea's love of sharing her food with us that made mealtimes so special. We'd sit around the dining room table and discuss our days, any upcoming plans, and maybe receive some recommendations on somewhere new we had to visit.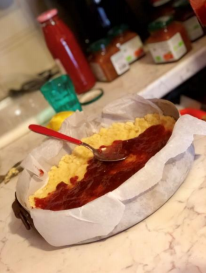 After every meal we ate together, we would gather in the living room to watch our nightly American action-thriller dubbed over in Italian until that sweet food coma hit and we were all ready to turn in for the night. Our month with Thea was sprinkled with the brightest moments of joy and food was at the center of so many of these moments. From having gelato with Thea and her parents in their beautiful, wooded home to playing with her grandchildren after a pasta dinner on the terrace. I can still remember the joy on Sophie's face when we would start getting ready for the day ahead and realize that Thea had left us a freshly baked Torta for breakfast, almost knowing when we needed it most.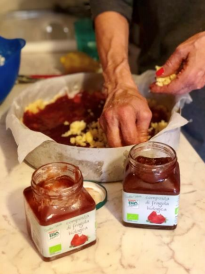 For more Mediterranean breakfasts check out our 7 Mediterranean Diet Breakfast Recipes.
Watch how to make our anti-inflammatory breakfast beverage Creamy Turmeric Drink (Golden Milk).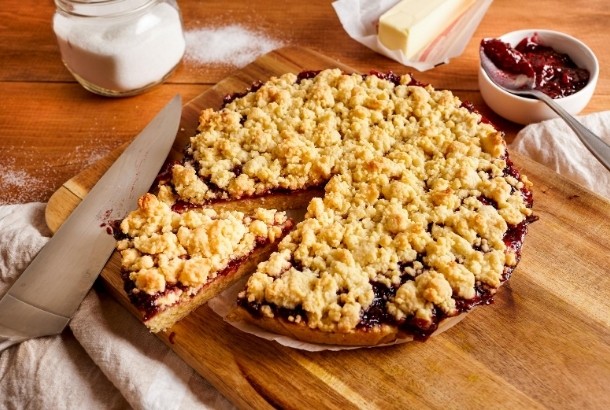 Breakfast Torta with Jam (Italy)
Ingredients
4

cups

all purpose flour

1

cup

sugar sugar