Italian Frittata is an inexpensive traditional Mediterranean Diet breakfast or dinner recipe that is an easy weeknight creation. You can peek in the fridge and pull out random foodstuffs to make your own style of frittata. Or start with a recipe that includes your favorite ingredients.
Here is a recipe we love from new contributor Felicia Levinson. Felicia is the founder of the Unwritten Recipes blog, where she shares her adventures in cooking and baking. There are plenty of healthy and inspiring Mediterranean style recipes at Unwritten Recipes. We especially love her recipe for Corn, Scallion and Potato Frittata. The addition of mozzarella cheese cooked under the broiler creates a melty and crispy goodness. We pronounce this frittata delicious!
Stop by the Unwritten Recipes site. You'll find great stories and delicious food that's fun to make and even better to share. This inviting, recipe-a-day blog is full of easy-to-follow directions, helpful photos and mouthwatering, non-fussy
creations the entire family can prepare and enjoy together.
And, stop by the Unwritten Recipes Facebook page for regular recipe shares by Felicia.
Click here for more traditional Mediterranean Diet Breakfasts.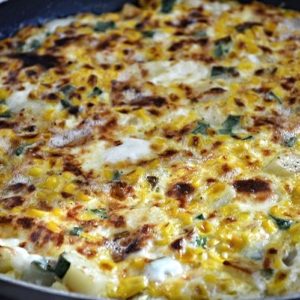 Corn, Scallion and Potato Frittata