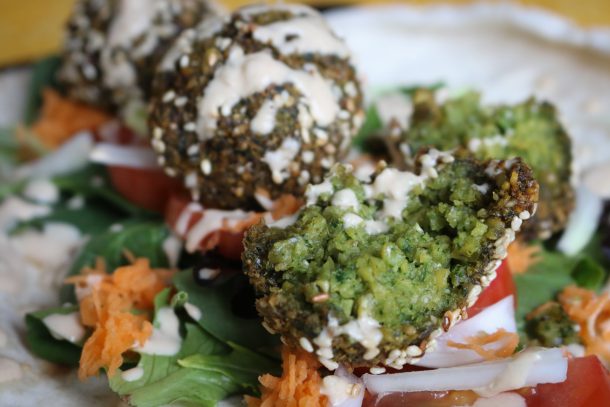 I have been looking for the perfect Falafel recipe for about ten years now.  There have been some horrible failures and some pretty good successes.  I finally have found the perfect Mediterranean Diet recipe for Falafel!
My all time favorite cooking failure (in hindsight)
I was cooking dinner for 35 people and had falafel as the main course.  I was being particularly adventurous and was using an untried recipe for the first time.  I have done this before in workshops, trying out a new recipe on a group of unsuspecting participants, usually with a good outcome.  This falafel dinner was another story.
The rest of the dinner was already prepared (salads, sweet potato fries, sautéed greens), but I decided to wait 15 minutes before everyone was arriving to fry the falafel patties that I had already formed.  At the 20 minute pre-dinner mark, I turned on the stove to medium, waited until the oil was at a sizzling hot temp and added the first batch of well formed patties.
Everything seemed to be going well, but when I flipped the first patty, it completely fell apart and then it did some sort of freaky magic trick and just completely disappeared into the oil.  An expletive was immediately aimed at the patty.  Then I flipped another and the same thing happened.  One after the other, the chickpea and spice mixture crumbled into the oil and then disappeared.  Now, in a complete panic, I dredged out the tiny pieces with a slotted spoon and dumped them onto a paper towel lined platter.  What had once been 8 gorgeous patties were now about 2 tablespoons of oily glop.  I didn't know what else to do so I kept frying the rest of the falafel and the same thing happened over and over.
In the end, my sort of understanding guests were treated to salad, sweet potato fries, sautéed greens and a baby spoons worth of soggy falafel crumbles.  Even though I now understand why the patties fell apart I still haven't a clue how they turned into almost nothing.
The Beans
Needless to say, I was a bit traumatized by that experience and I didn't try another falafel recipe for a couple of years.  After some research I learned that my falafel failure was mostly due to me using cooked chickpeas instead of raw, soaked overnight beans.  Some recipes call for a blend of chickpeas and fava beans or just one or the other.  Since chickpeas are easier to find than fava for most people I  have stuck to recipes using chickpeas only.
The Greens
My favorite falafel that come from often Urban food trucks and Middle Eastern falafel shops, are usually very green on the inside.  This is from using a plethora of either parsley, cilantro or both.  In this case, we are using both for super flavor and an earthy appeal.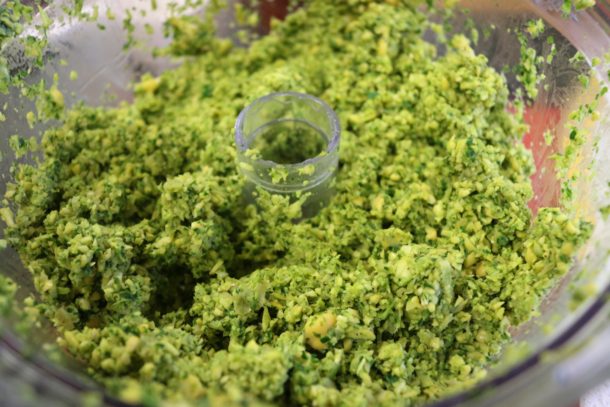 The Process
Here is the most important part that took me a few years to learn.  Even though this is an easy recipe you need to follow the instructions.  First of all, use raw chickpeas, soaked overnight!  Second, once the mixture is finished in the food processor, it is highly advised to refrigerate it for a half an hour.  Don't make them into patties until after you have refrigerated them and right before you put them in the sizzling oil.  This will help to keep the patties together when you fry them.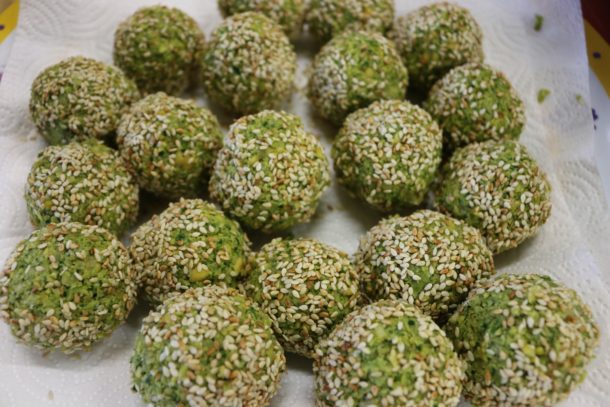 The Oil
Use a good quality extra virgin olive oil.  This will give the falafel the characteristic taste of the Mediterranean.  As long as you fry on a medium heat, the oil will be good for you.  You just don't want the oil to smoke so be careful not to get it too hot.  If it does begin to smoke, I recommend pouring out the oil and starting fresh.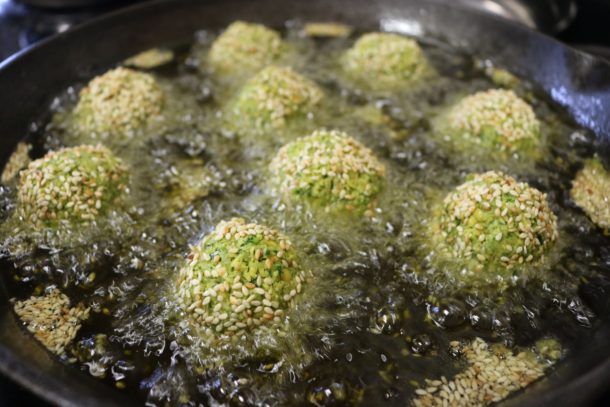 Serve Falafel with:
Serve the falafel with pita bread, tahini sauce or yogurt, a salad and pickled vegetables.
SaveSave
SaveSave