The sweet fruit of a hard life.
A culinary journey.
Three hundred huge Iberico pigs approach like a herd of buffalo, raising dust, hooves vibrating the earth below our feet.  "Don't be afraid," Pepe said with a smile, "they are friendly but don't let one get a hold of your foot!"
We are on the pastures of Dehesa de Solana, Jamón Ibérico producers in Cáceres, an autonomous community of Extremadura, Spain. Our guide for the day is Pepe Alba, master carver and owner of Turismo del Jamon.com.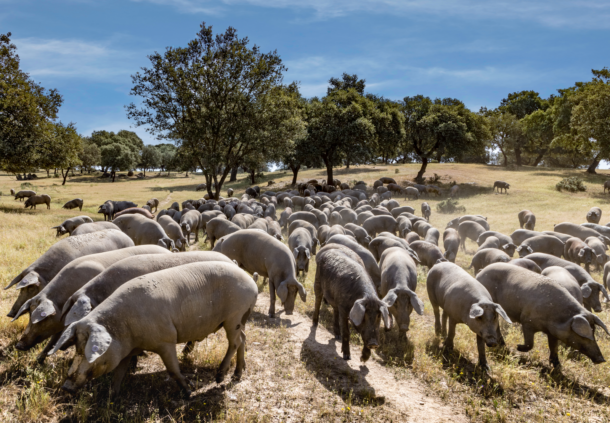 He turns and walks directly through the herd, they follow as he leads them down to the water to wallow in the cool mud. The pied piper of pigs.
In the south west of Spain, on the border of Portugal, is Extremadura. The name stems from the Latin words meaning " Outermost Hard". It is a land of extremes. The bulk of the landscape is the seemingly endless dry brown Dehesa grasslands and oak pastures where black Iberian pigs roam and fighting bulls are raised. To the west, in the mountains and fertile valleys, the sweetest cherries in Spain are grown as are red peppers for the smoked paprika, Pimenton de la Vera, that is so essential to Spanish cooking.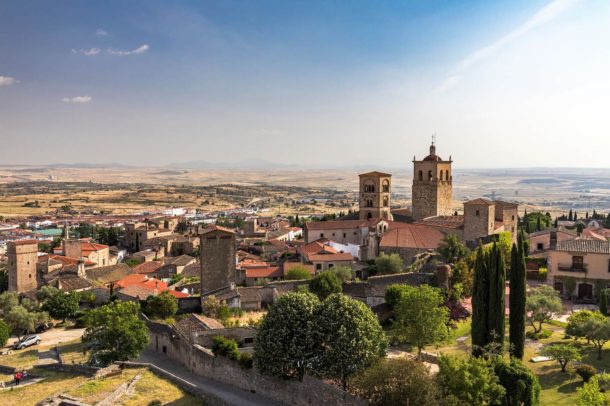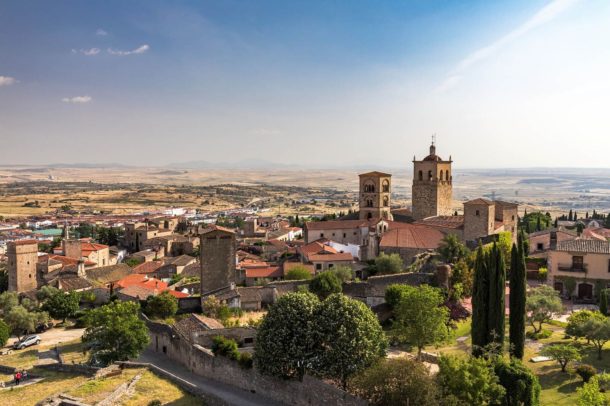 Romans and Moors fought for this land from castles that are still the center of many towns. In the 1500's, men like Cortez and Pizarro set forth from "The land of the conquistadors" for their bloody campaigns to conquer the Incas and Aztecs. From intense environments come intense flavors and personalities. The olive oil is richer, the wines are deeper, even the people are a little more concentrated. As with all of Spain, food is king. Outdoor cafes with hundreds of outside tables ring every central plaza in Extremadura. Meals are leisurely, the bars can be crowded and often loud and fun.  Thankfully, the tradition of free tapas still exists here. Order a drink, and a tapa appears.
These are not the stale bowl of peanuts or chips you find in an American bar. Bar Tapas are small plates of flavor bombs. It could be local olives or Papas Brava made with pimentos de la Vera, or fried Iberian pork, courgettes with salt cod, or a hundred other local specialties. The places with the best tapas are always packed.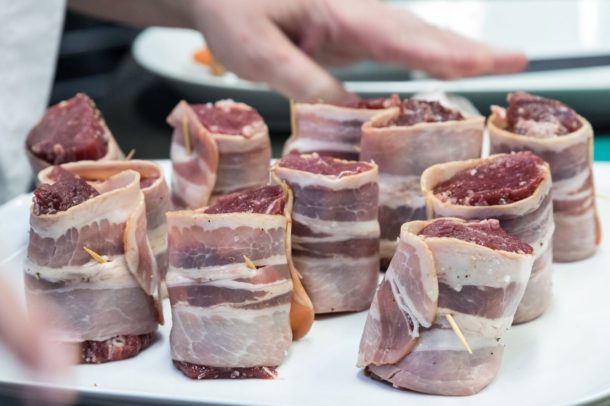 Here are few ideas about what to do, see, and eat in this region; also some recipes to try out at home to taste the flavor of Extremadura.
The Jerte Valley:
In the  Cafe Bar Rincon de Yuste in the Plaza de Espana in Cuacos de Yuste, we sat down for a midday beer during a drive through this stunning landscape of mountains, valleys, river gorges, and endless rows of cherry trees with Garganta de los Infiernos Guides.
Even though lunch was just an hour away, the complimentary tapas in this little place were irresistible: migas, (fried breadcrumbs with bacon, garlic and pimenton), sausages and wild mushrooms with bread and stewed Iberian pork. Tapa tip:  pour the juice from the stewed pork into the migas.
 We visited the Garganta de los Infiernos (Hell's Gorge) nature reserve; picked cherries from one of our guides orchards and toured the production facility of Las Hermanas Paprika producers in Cuacos de Yuste. Breaking with the male-dominated industry, it is the only female-owned producer in Spain.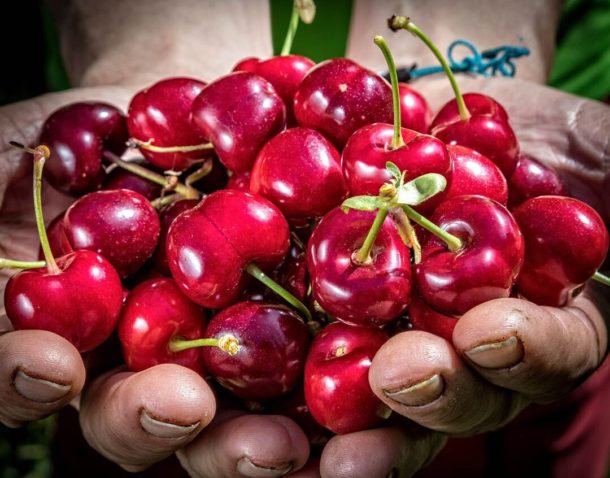 The unique flavor of Pimenton de la Vera comes from smoking red peppers for two weeks over oak fires. Turned every two hours, the resulting flavor is unmistakable.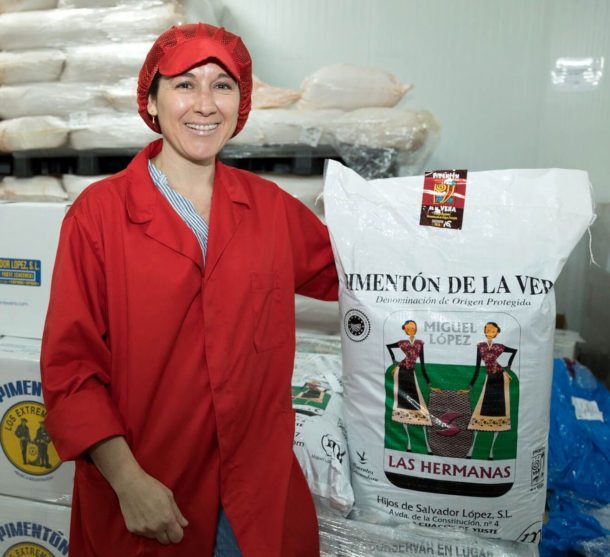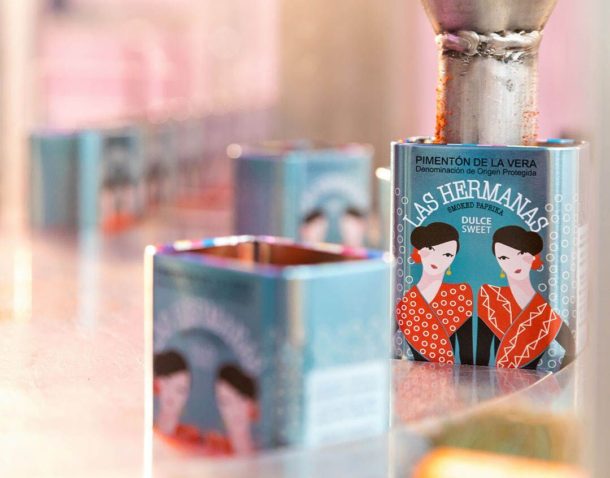 Paraje Las Gallardas, 10612
Jerte, Spain
+34 689 28 21 16
The view of the Jerte valley is spectacular from this rural restaurant.  Cherry gazpacho, Torta del Casar, (a naturally soft cheese, considered one of the best in Spain),  orange salad with cherry jam and paprika, Patatas Revolconas: mashed potatoes with olive oil, garlic, bacon and paprika. Finishing with a platter of amazing  grilled goat. Topped off with a shot of the local sweet and strong, Cerza Cherry liquor.
Chef 'Dori" was gracious enough to allow me in her kitchen for the recipes.