There are times when your body simply needs greens. On those occasions, I pull together a "Go Green" salad, which entails hunting down all of the green ingredients from the refrigerator and pantry. Now that spring is coming I seem to be turning to this salad again and again.
Another newish practice is creating a mix of cooked and raw vegetables in my salads. I was recently inspired by Koula Barydakis' Cretan salad recipe which incorporates cooked zucchini in the salad. This is also reminiscent of many fine Nicoise salad recipes.
You can make my exact salad or make your own version by hunting down delicious and healthy green ingredients on hand to make your perfect salad. Also, feel free to toss in some feta or other cheese and dried fruit such as currants or raisins.
Enjoy!
Photo Credit: Christine Dutton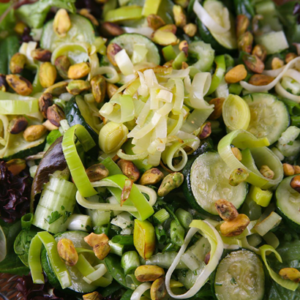 Go Green Salad
Ingredients
2

cups

mixed salad greens

6

tbsp.

extra virgin olive oil, divided

1

zucchini, sliced

1

leek, sliced

3

stalks celery, sliced

1

bunch

scallions, sliced

1/4

cup

parsley, chopped

1

lemon

2

tbsp.

white balsamic vinegar, divided

1/4

cup

toasted pistachios

salt and pepper
Instructions
Heat up 2 tbsp of extra virgin olive oil. Pan fry zucchini, lightly salting, 2-3 minutes each side. Set aside and pan fry leeks until soft, but not browned. Set aside

Place mixed salad greens in a bowl. To another bowl, add celery, scallions and parsley. Add a little salt and pepper to taste. Add 2 Tbsp olive oil, juice of 1/2 a lemon and 1 Tbsp balsamic to each bowl. Stir to coat with dressing.

Spread mixed salad greens on a serving plate. Over the top of the salad, add the celery, scallions and parsley mixture. Then, scatter the zucchini and leeks, then the pistachios across the top of the salad.
Nutrition
Calories:
282
kcal
Carbohydrates:
12
g
Protein:
3
g
Fat:
26
g
Saturated Fat:
4
g
Sodium:
22