Walking around any city in Greece, the smell of baking bread and sweet treats fills the air. Beautiful bakeries are peppered across the streets, their displays enticing with tray after tray of syrup-laden desserts. Of these, the most popular and revered is the quintessential Greek dessert: baklava. A delicious concoction of flaky phyllo dough, rich nutty filling, and a generous drizzle of sweet syrup, baklava is famous for its unique combination of taste and texture.
The origins of baklava are steeped in the deep and complex culinary history of the Eastern Mediterranean. Tracing the lineage of this sweet pastry takes us back to the ancient civilizations of the Near East, around 8th century B.C. The Assyrians are often credited as the first to combine thin layers of dough with chopped nuts, honey, and dried fruit to create a rich, sweet dish. However, it was the Greeks who, having refined the art of thin dough production, revolutionized the dessert with the creation of phyllo dough.
In Greek, "phyllo" means leaf, a fitting name for this ultra-thin, almost transparent dough. The technique of rolling out the dough into these delicate, tissue-like sheets was developed in Byzantine-era kitchens of Constantinople. The dough, made simply from flour, water, and a little oil, is rolled out so thinly that, as the old saying goes, one could read a love letter through it.
Baklava, as we know it today, likely took shape in the imperial kitchens of the Topkapi Palace in Istanbul during the Ottoman Empire. Culinary scholars believe the Greeks introduced baklava to the Ottomans, who then spread the dessert throughout their vast empire, leading to variations in recipe and preparation across different regions.
In Greece, the preparation of baklava is almost a ritual, bearing testimony to the dessert's ancient and complex history. The phyllo dough is gently layered, typically in a pan, with each layer brushed with good quality extra virgin olive oil. This is an aspect where the store-bought versions often fall short. They are loaded with preservatives and a list of ingredients too long for comfort, often using cheaper fats in place of the olive oil, thereby sacrificing the taste and authenticity of the dessert.
Following the phyllo, a generous spread of a nutty mixture is layered. This mix typically includes finely chopped walnuts, almonds, or pistachios, sugar, and a medley of aromatic spices like cinnamon and clove. This process of layering phyllo and nut mixture is repeated, building up the baklava, until it reaches a satisfactory height. Once done, the layered masterpiece is cut into characteristic diamond shapes and then baked until golden and crisp.
The final and vital step is the application of syrup. While the baklava is still hot from the oven, a sweet syrup made from sugar, water, and often a hint of lemon or rose water is poured over the top. The hot pastry absorbs the syrup, resulting in a dessert that is at once crispy, chewy, sweet, and nutty.
Baklava is traditionally served at room temperature, often with a cup of Greek coffee or tea. In Greece, it's a customary dessert during festive occasions and family gatherings, especially during Easter and Christmas. But it's not uncommon to see it enjoyed as a daily indulgence, either. One thing's for sure, the homemade version of baklava is leagues ahead of any store-bought version!
The experience of making baklava at home is rewarding, and the result is a dessert steeped in history, reflecting the culinary traditions of ancient civilizations. As you bite into a piece of homemade baklava, you are transported to the old world, tasting the labor of love that has been handed down through generations. The crunchy texture of the phyllo layers, the rich, nutty flavor of the filling, and the sweet, fragrant syrup combine in a symphony of flavors that is more than just a dessert; it's an experience, a slice of Greek heritage.
In the cosmopolitan cities of Athens and Thessaloniki to the smallest, most remote Greek islands, baklava is universally adored. Indeed, walking down the cobblestone streets of Santorini or Mykonos, amid the whitewashed houses and the blue-domed churches, you'll find quaint little bakeries where elderly women prepare baklava using recipes passed down through the generations. Their age-worn hands skillfully layering the thin sheets of phyllo, scattering the aromatic nut filling, and pouring the sweet syrup are a testament to the enduring appeal of this dessert.
Even in the modern culinary landscape, where fusion foods and avant-garde cuisine often take center stage, baklava stands tall as a testament to the rich culinary history of Greece. It's not just a dessert; it's a time-honored tradition, a tangible link to the past, and an enduring symbol of Greek hospitality.
In recent years, variations of baklava have emerged, some introducing chocolate, fruit, or even cheese. But the original, unadorned version with its simple, high-quality ingredients remains the classic, beloved by all.
When you next find yourself in Greece, or in a Greek kitchen, be sure to seek out a piece of baklava. Better yet, participate in the process of creating it. See firsthand how the simple ingredients of phyllo dough, nuts, and syrup, when layered together, transform into a dessert so sublime that it has stood the test of time.
In the end, whether it's enjoyed in a bustling city bakery or a quiet, island café, the experience of eating baklava in Greece is an immersion into an age-old culture. It's an exploration of historical ties that bind together civilizations, a testament to human ingenuity in crafting delectable sweets, and a nod to the simple pleasures of life. So, when you see the trays of this golden, syrupy delight glistening under the soft, warm light of a Greek bakery, know that you're not just looking at a dessert—you're looking at a piece of Greek history, a narrative that is sweet, rich, and layered, much like baklava itself. The real thing is, indeed, so much better!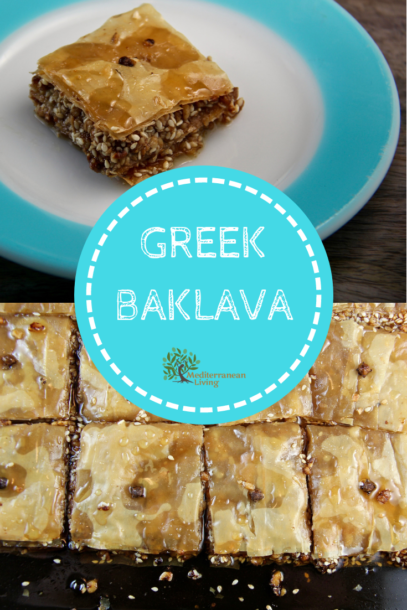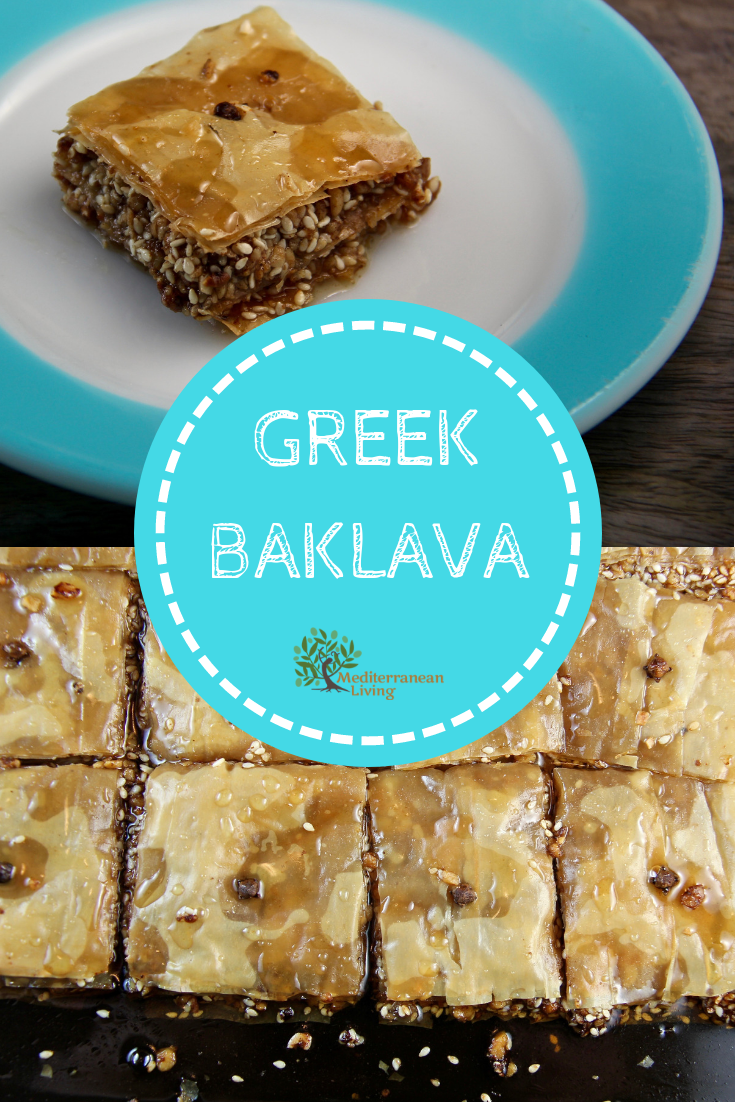 My favorite way to eat Greek baklava is with a nice strong black coffee. The best is a boiled Greek coffee. The sweet baklava contrasts perfectly with the black coffee.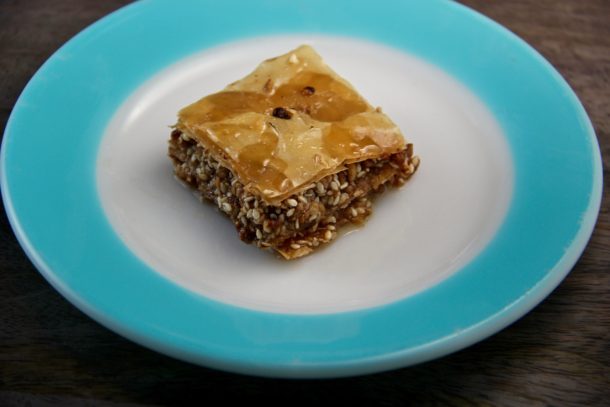 Photo by Christine Dutton
Here are some of our other favorite Greek dessert recipes:
Portokalopita (Traditional Greek Orange Cake)
SaveSave
SaveSave
SaveSave
SaveSave
SaveSave
SaveSave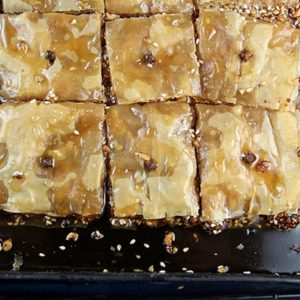 Greek Baklava
Ingredients
12

sheets

phyllo pastry dough

2

cups

almonds, chopped

2

cups

walnuts, chopped

1

cup

sesame seeds

2

tsp

ground cinnamon

1

tsp

ground cloves

3

tbsp

honey

1

cup

extra virgin olive oil (to brush the dough)

Whole cloves (1 for each piece of baklava)
Syrup:
2

cups

water

1

cup

honey

2

cups

sugar

1

cinnamon stick

1

peel of lemon

1

lemon juice
Instructions
Preheat oven to 350 degrees Fahrenheit.

Mix almonds, walnuts, sesame seeds, cinnamon, ground cloves, and honey in a bowl.

Brush 1 sheet phyllo (both sides) with olive oil and place in a 9" x 13" baking pan. Place 3 additional oiled sheets on top. Spread half of the nut mixture evenly on the phyllo.

Brush 4 sheets of phyllo dough (separately) with olive oil and layer on top of nut mixture. Add the rest of the nut mixture on top of the phyllo you just layed down.

Cut the baklava into square pieces. Place one whole clove on each piece. Bake for 35 minutes or until top is golden brown.

While the baklava is baking, make the syrup.

For the syrup add water, honey, sugar, cinnamon stick, and lemon peel to a saucepan. Bring to a boil, lower to a simmer. Simmer for 15 minutes and then let the syrup cool down until it's warm, not hot. Mix in the lemon juice.

Remove the baklava from the oven and pour the warm syrup over the baklava.

Let cool before serving and enjoy!
Nutrition
Calories:
393
kcal
Carbohydrates:
41
g
Protein:
6
g
Fat:
25
g
Saturated Fat:
3
g
Polyunsaturated Fat:
8
g
Monounsaturated Fat:
13
g
Trans Fat:
0.003
g
Sodium:
49
mg
Potassium:
180
mg
Fiber:
3
g
Sugar:
31
g
Vitamin A:
4
IU
Vitamin C:
1
mg
Calcium:
110
mg
Iron:
2
mg