Horta and potatoes are a Mediterranean diet recipe eaten every day in Crete. In the springtime, it's a normal sight to see the older ladies of the village foraging on the side of the road for wild edible greens.
All year long there are a wide variety of edible greens available at the farmer's markets. Potatoes are a staple in the Cretan diet. The flavor of both Horta and potatoes are enhanced with fresh lemon juice.
Citrus trees grow everywhere in Crete so it's as simple as walking to the nearest lemon tree and picking them. Combine these greens, potatoes, and lemon with lots of fresh extra virgin olive oil and you have one of the healthiest, inexpensive, and fulfilling dishes from Crete.
Horta and potatoes are a perfect example of why scientists believe the Mediterranean diet and lifestyle is so intertwined with longevity. Physical activity is a large part of this dish because whether you forage for the greens, grow and harvest the potatoes, or tend to the olive trees and pick the olives, there is some amount of physical activity needed to bring this dish from nature to your plate.
Daily physical activity is definitely one of the reasons for the Cretan's longevity. Another aspect is the daily intake of dark leafy greens. I see new scientific studies all the time finding health benefits from eating dark leafy greens. The most recent study shows the correlation between dementia and daily green intake.
The most important part of this dish is the extra virgin olive oil. This dish shows how much extra virgin olive oil is used in Crete. Olive oil is at the heart of their diet and of the Mediterranean diet in general. Just like greens, new studies are coming out almost daily about all of the health benefits of extra virgin olive oil.
Cretan people consume the most olive oil in the world and Horta and potatoes are always dripping in the liquid gold. Is it a coincidence that the place with the highest consumption of extra virgin olive oil in the world also has the lowest rates of heart disease in the world? This dish is much more than wild greens and potatoes. Thousands of years of tradition and knowledge have led the Cretan people to eat amazing foods like this.
Check out the Instant Pot version of this recipe here!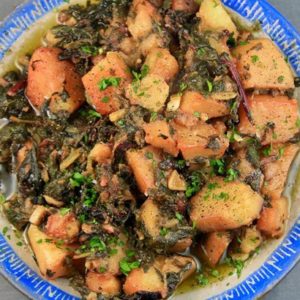 Horta (Greens) with Potatoes (Recipe and How-To Video)
Ingredients
1

cup

extra virgin olive oil

1

cup

water

2

bunches

swiss chard, stems removed and chopped into bite sized pieces

1

package

spinach, stems removed and chopped into bite sized pieces

6

baby potatoes, peeled and cut into halves

10

cloves

garlic, sliced

1/2

lemon

Salt and pepper, to taste
Instructions
In a medium sized pot (the less wide, the better) add olive oil and water.

Add all other ingredients except for lemon juice.

Bring to a boil and then lower to simmer.

Simmer for 45 minutes, stirring often. Add more water, if needed, but most of the water should boil out leaving mostly olive oil.

Add lemon juice in last few minutes of cooking. Salt and pepper, to taste.
Nutrition
Calories:
401
kcal
Carbohydrates:
18
g
Protein:
5
g
Fat:
36
g
Saturated Fat:
5
g
Sodium:
257
mg
Potassium:
912
mg
Fiber:
4
g
Sugar:
2
g
Vitamin A:
10558
IU
Vitamin C:
61
mg
Calcium:
118
mg
Iron:
4
mg