Peperonata is an evergreen Italian side dish that originates in Sicily, and is usually prepared during summer time. At this time of the year,in southern Italy, bell peppers are at their best, extremely plump and bright in color.
Moreover, this is one of the very few Italian recipes that features bell peppers as the main ingredient.  I love all kinds of peppers cooked in any fashion, which is why this is one of my favorite dishes of all times! Also, for me, this is that one dish that when I was a kid taught me that eating vegetables could actually be something enjoyable.
I always thought there was something magical about taking just a few simple ingredients directly from the backyard or the farmer's market and transforming them into something so delicious in just about 30 minutes. Also, I'm especially fond of this recipe as it comes directly from Ragusa, the southernmost Italian city and my grandma's birthplace. To think that the city is even further south than most of Tunisia and Algeria coastline!
Peperonata is beyond simple to make and it's very popular both hot and cold, especially in southern Italy. This said, there are quite a few regional variations. Here in Liguria for instance, it is quite common to add olives, but of course you can feel free to leave them out.
Even though peperonata originates as a side dish for grilled meats, you can actually eat it in an endless variety of ways. Here are just a few suggestions to widen your imagination: you could enjoy peperonata as an appetizer on a toasted slice of bread with some ricotta cheese, in a sandwich with cold cuts, or as a topping for homemade pizza. When I visited Sicily, I've even seen it used as a delicious pasta sauce!
Enjoy!
Some of our other favorite pepper recipes:
Eggplant, Lentils and Peppers Cooked in Olive Oil (Turkey)
Greek Stuffed Peppers and Tomatoes (Crete)
Moroccan Chicken with Peppers, Lemons and Olives
Plus a video on:
Are red, green and orange peppers all the same pepper?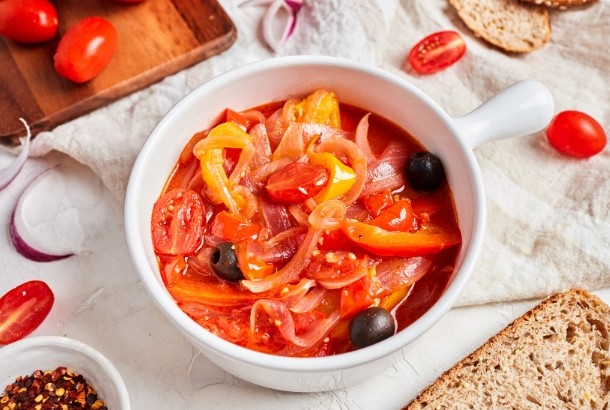 Italian Peperonata (Sweet Bell Peppers with Tomatoes and Olives)
Ingredients
3

tbsp

extra virgin olive oil

2

cloves

garlic, roughly chopped

1

large

red onion, sliced

1

red bell pepper

10 ounces

1

yellow bell pepper

10 ounces

10

ounces

cherry tomatoes, halved

1/4

cup

black olives (optional)

1/8

tsp

hot chili flakes

1

tbsp

tomato paste

1

cup