This Moroccan inspired dish is a fusion between a Mediterranean Diet recipe and the flavors of New England.  I have cooked this for thousands of people and many have told me that I should bottle the sauce.  You can cook this on the stove top, a Dutch oven or in a crock pot.  The trick to making this simple Moroccan chicken dish is having a tight cover on whatever cooking pot you are using.  This way the peppers and chicken are tender and the wonderful flavors are infused into all the ingredients.  This is one of those dishes that is easy to make, but elegant.  It can be served for almost any type of event from casual to fancy.
Don't be fooled by the long list of ingredients.  Half of the ingredients are the sauce which only takes about 5 minutes to put together.  It is really a very simple recipe to make.
With the Dutch oven version begin by sautéing the chicken and vegetable and then make the sauce.  This will save you time.  If you want, you can also forget about putting the Dutch oven in the oven and just keep cooking it on medium on the stove top until the peppers are soft and the chicken is cooked.  If you don't have a Dutch oven, then just cook the whole thing on the stove with a tightly covered pot.
The Crock Pot version is super easy and only takes about 15 minutes to prepare.  Sauté the chicken in a skillet and then add all the ingredients to the crock pot.  You can cook on high for 5 hours and you are done.  I love this recipe no matter how it is made.
I serve this with a Greek salad and bread (to sop up the gravy). Enjoy and please rate and review!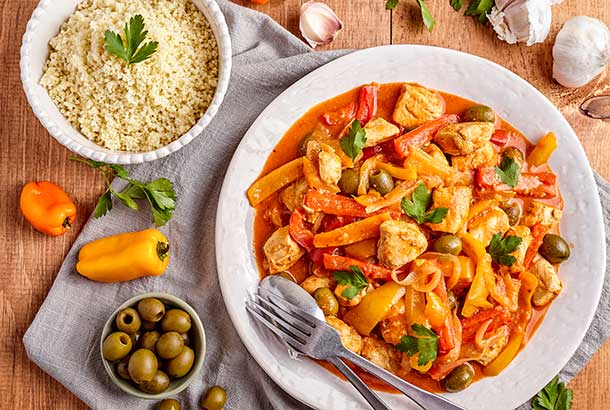 Moroccan Chicken with Peppers, Lemons and Olives
Ingredients
2

pounds

chicken breast, cut into bite sized pieces

2

tbsp

extra virgin olive oil

1

lemon, peeled and sliced very thin

3

cups

green olives, with pits (or without if desired)

2

red peppers, cut into long, wide, strips

2

yellow peppers, cut into long, wide strips

2

orange peppers, cut into long, wide strips

3

onions, cut into quarters

8

cloves

garlic, chopped

2

tbsp

tomato paste

2

tbsp

honey

2

tbsp

molasses

2

tbsp

Dijon Mustard

1/2