This recipe was inspired by an appetizer in the classic Italian cookbook, The Silver Spoon. Marinated eggplant with mint & capers is a favorite for brunches and small bites when having guests.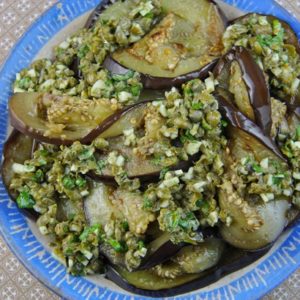 Marinated Eggplant with Mint & Capers
Ingredients
2

eggplants cut into 1/4-inch thick slices

6

cloves

garlic, finely chopped

3

tbsp

capers, rinsed

2

tbsp

chopped fresh mint

1

tbsp

 chopped fresh parsley

1/2

tsp

dried oregano

1/4

cup

good quality extra virgin olive oil for frying

1/2

cup

olive oil for brushing

salt

Freshly ground black pepper

Additional chopped parsley for garnish
Instructions
Slice eggplants at ¼ inch thick. Brush one side with olive oil.

Add olive oil to frying pan, just covering bottom. Heat olive oil in a frying pan and then add eggplants to pan (olive oil brushed side facing up). Brown eggplants on both sides. Some slices will cook faster than others. Remove eggplant slices when done and add more to the pan. Add additional olive oil as needed.

Combine the garlic, capers, mint, parsley and oregano in a bowl and season with salt and freshly ground black pepper.

In a medium flat bowl or other container, make a single slightly overlapping layer of eggplant. Scatter a Tbsp. of the garlic and herb mixture over the eggplant and drizzle olive oil over the eggplant and mixture. Continue adding layers with a final scattering of the caper and herb mixture.

Allow the eggplant to marinate in a cool place for at least 6 hours. Serve with pieces of crusty bread.
Nutrition