When we order take-out salads, we usually get a dressing packet that might be creamy but is loaded with preservatives, fillings and unwanted chemicals. We think we're eating healthy because we're eating salad, but the dressing totally kills any hopes of that. But salad tastes so much better with the dressing! Well, guess what? You can make a creamy, rich tasting dressing that's much healthier for you! Thick Greek yogurt whisked together with extra virgin olive oil, lemon juice, and herbs combine into a creamy dressing that makes this grilled chicken salad recipe superb!
I don't know about you, but I love any kind of pickled or jarred vegetable. You can be totally creative and free with this part of the recipe. Personally, I add marinated grilled artichokes, roasted red peppers, and olives to this recipe. There are so many other options though like pickles, banana peppers, pepperoncini, marinated mushrooms, capers, pickled onions, or even kimchi. Put in whatever you have on hand.
Notice that I'm not calling this a Greek salad even though it's very similar to a lot of the Greek salads you've probably eaten. This grilled chicken salad recipe has crumbled feta, olives, lettuce, tomato, cucumber, onion just like a lot of the "take-out" Greek salads from pizza places and take-out restaurants.  A traditional Greek salad doesn't use creamy dressing , it uses raw extra virgin olive oil. Also, lettuce is excluded and it is made up of big rustic pieces of tomato, cucumber, onion and a huge slice of feta, instead of crumbled. Here is a recipe for a traditional Greek salad that is another epic salad, just much different from this one.
I hope you enjoy this salad recipe and I encourage you to change it up however you like!
If you're looking for some more great Mediterranean salad recipes, check these out!
Grilled Shrimp Salad with Fresh Dill Dressing
Seared Mushroom Salad with Blue Cheese and Arugula (Italy)
Chicken and Chickpea Salad with Fresh Basil Dressing (Greek Island of Crete)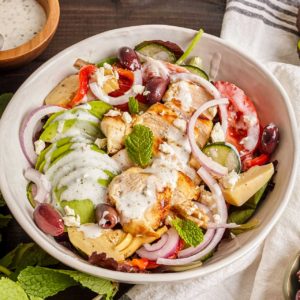 Mediterranean Grilled Chicken Salad with Creamy Yogurt Dressing