Pan-Fried Scallops with Hand-Chopped Pesto is my favorite Mediterranean Diet recipe creation of the summer.  It is a decadent mix of seafood, fresh basil, garlic, parmesan cheese and a lot of extra virgin olive oil.  It's the ideal dish for romance or a dinner party where you want to impress your guests.  The best part is that it is easy to make; you don't need any special equipment (a cutting board, a knife and a skillet); and the whole recipe takes less than a half hour from washing the basil to serving.  This summer, I served it with corn on the cob, a Greek salad and freshly baked bread.  If you are gluten free, I recommend finding some really good alternative bread, because it would be a crime not to scoop up the pesto and olive oil left over in the bottom of the pan.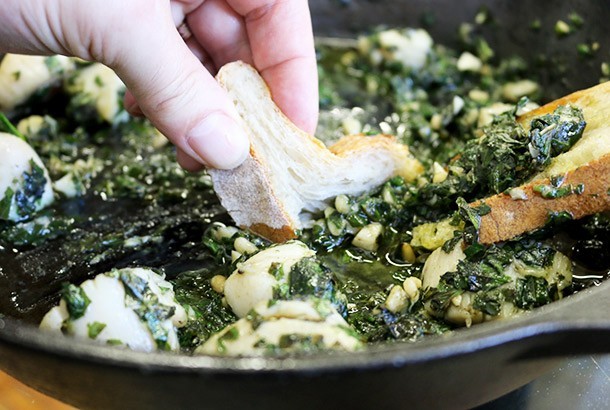 I love pesto and I like it made in a food processor, but recently I have totally enjoyed chopping it by hand.  Hand-chopped pesto means you can make a small amount and not have to clean the food processor.  It also is more rustic and gives you control of how chopped you want it.   Begin by gathering all your pesto ingredients on the biggest chopping board you own.  I put the basil in the middle of the board and add everything to it.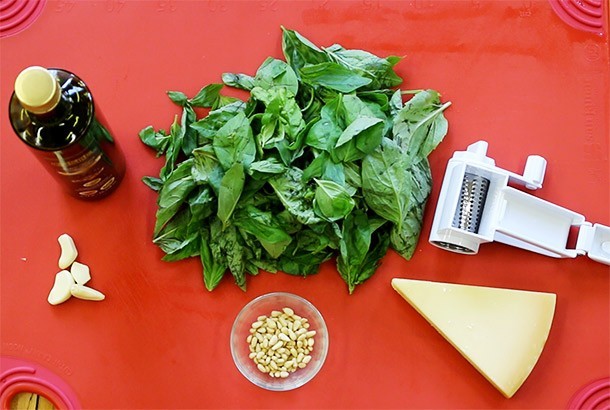 I usually chop the garlic first so no one gets an overly potent bite in the pesto.  Add the chopped garlic to the top of the basil and then begin adding the other ingredients and start chopping.  I try not to over chop, but I do it at least until the mixture folds into one big beautiful pile of pesto.
Once the pesto is done, then you are ready to cook the scallops.  Saute them in olive oil in a sizzling skillet (medium heat).  Add garlic, salt and pepper and when they are done, top it all with the pesto.  If you prepare this in a nice skillet (I use cast iron), you can serve it right in the pan.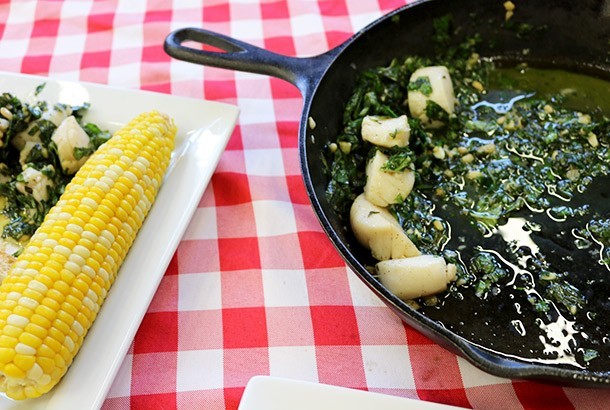 Prepare for people to declare their love for you!  Enjoy.
SaveSave
Save