Culinary Pleasures in Paros Island
By Artemis Morris, N.D., L.A.c.
The last time I stepped foot on the island of Paros island was for a day trip over 20 years ago with my mother and cousins from Crete, Greece. This time, I had the opportunity to see Paros through the lens of an adult, having grown into a physician, nutritionist, and culinary aficionado with a specialty in the Mediterranean Diet.  At first I was  struck by the peaceful simplicity of the white washed houses with Mediterranean blue accents and dramatic splashes of vibrant magenta bougainvillea. The feeling I get when I land in Greece is an immediate decompression that reminds me of the popular phrase written on the T-shirts in the 80's, "relax."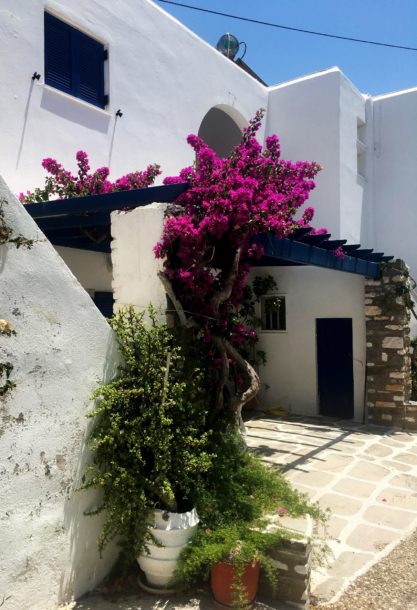 In Paros, you find the most delicious food in unexpected places. For example, I had the pleasure of staying at Villa Irini, an impeccable hotel with an infinity pool overlooking the port town of Naoussa where hospitality is unparalleled. The complimentary breakfast included yogurt and an array of toppings, including a homemade  apricot and quince marmalade made by Mrs. Irene Roussos, the matriarch of the family business. I used the marmalade as a topping for my yogurt with some local honey and decadent bites of their not-too-sweet homemade koularakia (Greek butter cookie) to fortify my day.  In addition to the homemade marmalade and cookies, Mrs. Rousoss made dainty bite-sized Dakos (not to be confused with Tacos), a local plate that was made of homemade barley rusk (toasted bread similar to a large crouton), covered with crushed tomatoes, and local soft goat cheese (xinomizithra) and sprinkled with oregano hand-picked from the mountains, among other handmade treats. The ingredients for the breakfast and her family meals come from her organic garden with vegetables, fruit, chickens, sheep, goats, and a small pig.  Some of the other dishes I had the pleasure of enjoying due to the generosity of Mrs. Roussos and her family included pastistio and moussaka, classic Greek dishes similar to lasagna made with meat or eggplant topped with a béchamel sauce and eaten as the main meal around 3 pm. She was kind enough to send me home with her slightly sweet cheese pies (tiropites) made with the local soft goat cheese, xinomizithra. When I asked her for the recipes, she did her best to give me approximations since she does not use measurements when she cooks like many excellent family chefs.
Each island in the Mediterranean has its own local customs, cuisine, and beauty. The local dish of Paros that stands out from the rest of the Mediterranean fare, is Gouna, pronounced the same way as "fur " in Greek, but is actually salted and sun dried mackerel.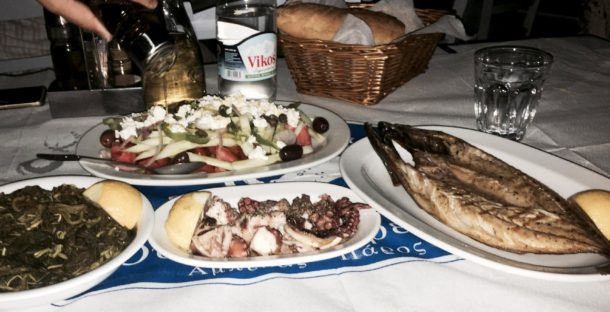 Mackerel is a small fish abundant in the Mediterranean that is high in healthy omega 3 fatty acids. My first night in Paros I had the gastronomic pleasure of eating Gouna at Vitsadakis, a restaurant on the harbor in Naoussa. I ate it with greens, called "Horta" in Greek. The most common variety of Horta in the Mediterranean is wild amaranth. Horta are boiled wild greens served with lemon juice and olive oil and a hint of salt. The Gouna was salty so it was well balanced with the greens and a glass of local white wine from the organic vineyard called Moraitis. For an appetizer, the restaurant had brown bread, olives, and homemade taramosalata, a creamy concoction of fish roe and mayonnaise.
Another night I had gluten-free pasta made out of chickpea flower with hints of arugula and lemon from Argusa, an Italian restaurant found through the meandering narrow streets of downtown Naoussa.  Dinner for a few more nights consisted of fresh fish and souvlaki, the "fast food" of Greece that is a healthier version because of the quality of meat and fresh vegetable toppings. For my last night, I ate Gouna and Horta one more time in addition to grilled octopus in vinegar that was so tender it melted on your taste buds at a restaurant just outside the port city where locals like to go called Thalami Abelas.  
If you are taking a trip to Greece, I would highly recommend Paros.  Below are a few recipes from Paros and my suggestions of where to eat and things to do on the island.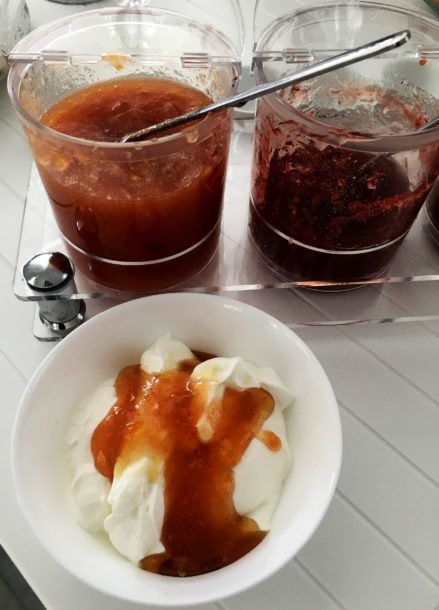 Recipe for homemade apricot and quince marmalade
courtesy of Mrs. Irene Roussos of Villa Irini
The organic apricots and quince were picked fresh, washed, and cut in half, and the pits removed.
Make the apricot and quince recipes separately and them combine to taste.
For approximately 20 large apricots you will need 800g (3 1/2 cups) sugar.
Combine the fruit and the sugar in a pot and let it sit for 10 hours allowing the fruit juices to mingle with the sugar.
Next, cook the fruit and sugar combination on high to start, then simmer on medium for 30-45 minutes.
Use a wooden spoon to stir the mixture if it starts to stick to the sides.
After the fruit has softened and has congealed add the juice of half a lemon.
Mrs. Roussos said that she can tell that the marmalade is done when she takes a spoon full of it and puts in on a dish to check its consistency.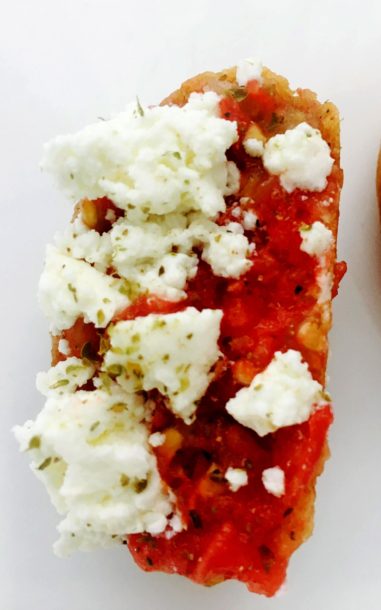 Recipe for Dakos
Ingredients:
Barley rusks
Tomatoes
Soft cheese- xinomizithra, made from goats milk. The closest cheese to xinomizithra in the US would be ricotta.
Extra virgin olive oil
oregano
If the barley husks are rock hard, then run them under slowly running water for 5 seconds to soften.
Finely chop the tomatoes and add a little olive oil and oregano to them.
Put enough of the tomato mixture on top of the barley rusk to cover it.
Add the soft cheese on top of the tomato mixture.
Sprinkle with oregano and drizzle lightly with olive oil.
You can also add a few capers on top to taste.
What to do in Paros
1.)  Culinary adventures: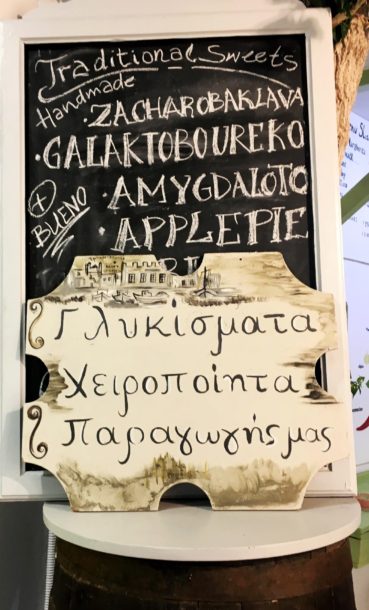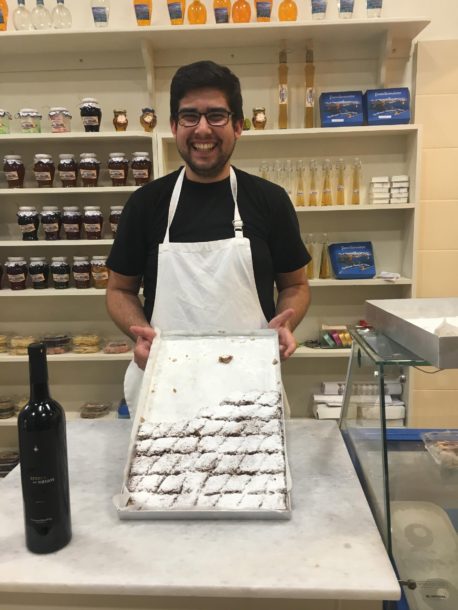 Drink fresh juices and homemade treats at Ragoussis. 
Eat Loukoumathes- Greek donuts shaped like a ball. They can be topped with 

honey, ice cream, Merenda- the Greek form of Nutella. Located in the winding streets of the port town and around town. You can also find gluten-free baklava or almond cookies from Tripolitsiotis that is made without phyllo dough and topped with lots of powdered-sugar. Diabetics beware!
Eat out at fabulous restaurants:
Most Greeks eat dinner after 8 pm so the restaurants will be open until at least midnight if you get a late start. Dinner service can start as early as 3 pm in some restaurants.
Tsachpinis. Seafood and drinks by the water and next to all the night life bars.
Glafkos restaurant –by the water; fresh fish, octopus, calamari.  Reservations are highly recommended June-August.
Mediterraneo. Seafood by the water.  Reservations are highly recommended June-August.https://www.facebook.com/mediterraneo.paros/
Argusa– Italian/Greek food with gourmet, gluten-free options. I had the most delicious chick pea flour pasta with arugula and lemon.
2.) Beach Adventures:
Go swimming in the salty, clear blue waters of the Mediterranean sea. Be aware that topless tanning is acceptable on all beaches in the Mediterranean and there are many nude beaches.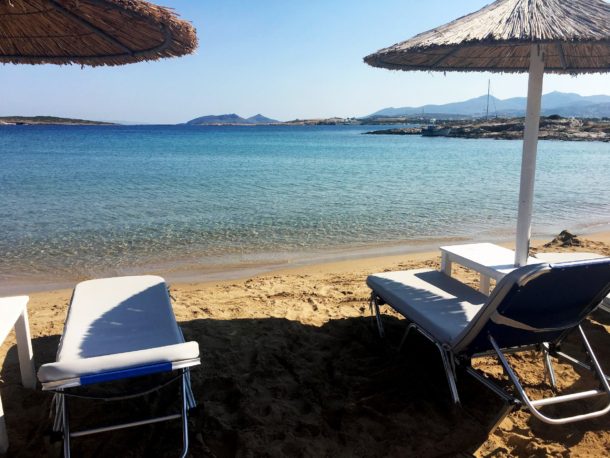 Golden Beach- Chrysi Akti.

A big and sandy beach with lots of wind surfing and water sports. 
Kolymbithres Beach

. A few sandy beaches with umbrellas and unique rock formations to climb on that were under the sea thousands of years ago.

Santa Maria beach

. The smaller Santa Maria beach (mikro) has umbrellas and is serviced by an excellent restaurant with fresh seafood called O Diktis. The larger (megalo) Santa Maria beach has more of a young party mood and includes a camp ground.

Faragas Beach.

A small beach with views when driving to get there is breathtaking. 
Monastery beach Agios Ioannis in the Park.

Accessible by car or boat from the port of Naoussa. Pristine waters with your choice of beach spots with or without umbrellas. The closest thing to your own private beach spot. 
3.) Shopping
Peruse the winding shops in Naoussa at night after dinner, including small shops with organic clothes, jewelry made from olive leafs, and fashionable clothes from Greek designers.
4.) Relaxing
Enjoy sitting for hours and watching the view at the harbor. A key element of Mediterranean Living is learning to do "nothing" gracefully.
5.) Places to Stay.
During high season end of June to end of August, make your reservations months in advance.
Villa Irini

. An impeccable hotel with an infinity pool and family owned hospitality.
http://villairini.com/pages/gr/home.php.
Our other articles about Greece:
The Cuisine of Thessaloniki (Greece)
SaveSave
SaveSave
SaveSave
SaveSave
SaveSave
SaveSave
SaveSave
SaveSave
SaveSave
SaveSave
SaveSave