For the past couple of weeks, I've been getting fresh potatoes from my CSA, or farm share. I've been roasting them with olive oil, rosemary, and garlic in the oven, but I wanted to think of another way to use them. I remembered a recipe I created in the spring, Warm Red Bliss Potato Salad with Artichokes, Capers, and Lemony Dill Vinaigrette. I love the way the roasted potatoes worked in this salad, and I knew I could create another healthy Mediterranean salad with roasted potatoes.
If there's one food I can't get enough of this time of year, it's pesto. Last week my Mediterranean counterpart, Bill Bradley, roasted potatoes in the oven until crispy and served them with garlicky, oily pesto that made these potatoes irresistible. I loved it so much I had to try my own version. I have fresh tomatoes from my garden right now which I put in this salad. Plus I just love the combination of pesto and fresh tomatoes. Next, I wanted a little crunch and more color so I added sliced red onion. I knew I needed one more thing to make this salad great. I thought about jarred and pickled vegetables to add a different flavor element to the salad. I tried to think of what would go great with pesto, and roasted red peppers jumped out at me.  Voila, Pesto Pasta Salad with Roasted Red Peppers!
It's ideal to serve this salad right away so the potatoes stay nice and crispy. However, when I had this salad for a second time once it had sat in the fridge for a while, it was even more flavorful! The pesto and olive oil basically marinate the vegetables. For this reason, you can serve this salad cold or at room temperature. This is a great salad to serve with grilled chicken or fish. There will be about a 1/4 cup of pesto leftover which will be a great dipping sauce for the chicken or fish. Enjoy this salad and please comment on how you liked it.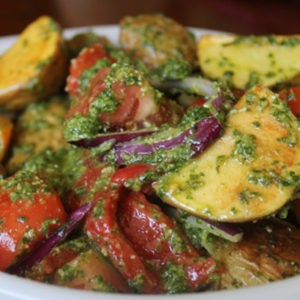 Pesto Potato Salad with Roasted Red Peppers
Ingredients
4

medium

potatoes, cut in quarters

1/4

cup

extra virgin olive oil

2

tomatoes, cut in bite sized pieces

1/4

red onion, sliced thin

1/2

cup

roasted red peppers, cut into strips
For the Pesto:
2

cloves

garlic

1

cup

fresh basil, washed and packed

1

cup

fresh arugula, washed and packed

1/4

cup

pine nuts