I want to thank my cousin Alexander for this recipe. When we were younger, I got into cooking first. He wasn't far behind though. Both of our moms are Armenian and they taught us how to cook. Whenever we have a family gathering, the food is the main attraction. Alexander is a master at grilling marinated meats and vegetables. His presentation is always on point because he pays close attention to detail. My sister is vegan and this quinoa salad is always her favorite dish on the table. We've been eating this salad at Alexander's house for years and I wanted to share this awesome recipe with all of you. The reason I like it is that it's delicious. However, not only is this salad delicious, it's also vegan, gluten-free, and anti-inflammatory! Like I said, this quinoa salad goes great with grilled meat and vegetables. Here are some recipes to pair this quinoa salad with:
Chicken Souvlaki with Grilled French Bread and Tzatziki
Greek Lamb, Tomato, and Onion Kabobs (Island of Crete)
Skillet Chicken with Lemony Mustard Greens and Olives
Quinoa is high in protein (1 cup of cooked quinoa has more protein than an egg), high in fiber (1 cup gives you about 20% of your daily fiber needs) and is a naturally gluten free food.  Quinoa is also an anti-inflammatory food and fits well into most diets.  This recipe gets the full anti-inflammatory seal of approval.  Also, because it is low in calories and high in fiber, it is a food that is great if you are trying to lose weight.
Quinoa is also one of the simplest grains to cook.  Simply bring water and quinoa to a boil (2 parts water to 1 part quinoa) and turn burner to low.  Cook quinoa uncovered until the water is absorbed.  Remove from heat and cover until you are ready to serve.  Fluff with a fork when serving.  Enjoy!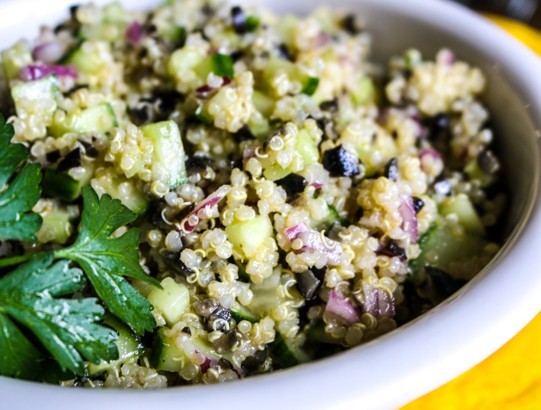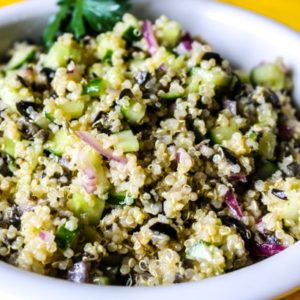 Quinoa Salad with Cucumber and Olives
Ingredients
1

cup

dried quinoa

2

cups

water

1

English cucumber, diced

1/2

red onion, finely chopped

1

can

black olives, drained and finely chopped
Dressing:
1

cup

extra virgin olive oil 

1/4

cup

red wine vinegar

1

tbsp

lemon juice

2

tbsp

dijon mustard

Salt and pepper, to taste