The perfect combo: Roasted Potatoes with Tahini Dressing and Falafel
This recipe for roasted potatoes with tahini dressing and falafel and is scrumptious and easy to make. The potatoes and sweet potatoes are roasted in olive oil and a generous amount of za'atar seasoning. Za'atar seasoning is a spice mixture that originates in the Middle East. The combination of spices can vary but a traditional za'atar will usually contain dried thyme, dried oregano, sumac, marjoram and toasted sesame seeds. If you are interested in making your own za'atar here is a link that will get you started.
Mid-way into roasting we add sliced onions and red bell pepper slices, so as not to over cook. This Mediterranean twist on roasted potatoes brings out a nutty & earthy flavor, perfect for pairing with our falafel and kibbeh. Falafel is traditionally made from chickpeas or fava beans and is commonly served in the Middle East. Falafel is rich in fiber, low-fat and high in protein. Kibbeh is also a traditional Middle Eastern dish and consists of ground meat, toasted pine nuts and spices. Kibbeh is the national dish of Lebanon where it is often eaten raw. For this recipe, baked kibbeh is called for but if you are interested in learning about preparing kibbeh from scratch, click here to learn more.  Also, if you are interested in making your own falafel, try our recipe here.
We finished the dish with a sweet and lemony tahini sauce. This dressing will last at least a week in the refrigerator if you have some left over. The melding of flavors is like a hug in a bowl. The entire dish evokes the feeling of watching the rolling waves of the Mediterranean Sea while wrapped in a blanket.
This post was brought to you in partnership with Afia Foods
This comforting fall dish was made easy using Afia Falafel & Kibbeh. Their products are made in the traditional way, using only simple ingredients and recipes that have been in their family for generations.  Once only available in grandma's kitchen, today Afia can be found at H-E-B stores, Amazon, and AfiaFoods.com.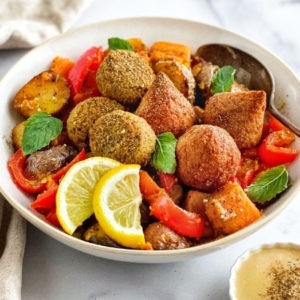 Roasted Potatoes with Tahini Dressing and Falafel
Ingredients
2

pounds

small white and red potatoes, cut in half

2

sweet potatoes, cut into chunks

1/4

cup

olive oil