This is a rustic flatbread recipe that originates from the abundance of the harvest, when the sun shines on the Mediterranean coast of Catalonia, Valencia, and the Balearic Islands, a region located in the east of Spain.
A coca is usually a fine dough and, like all the simple and delicious things of this world, it was born by chance. In this case, thanks to the bread dough that had not fermented properly. Instead of the dough being discarded, it was cooked as flatbread and seasoned with whatever was on hand. Coca may also be made in a quicker unfermented version, which you'll be learning to do today.
Each version of coca has its own traditional toppings.
In the case of Coca de Recapte, recapte means "provisioning" in Catalan. This one is normally topped with Escalivada (roasted peppers and eggplants), although other seasonal local products can be added: vegetables, sardines, Catalan sausage… generally basic and inexpensive foods, which allow for creative combinations.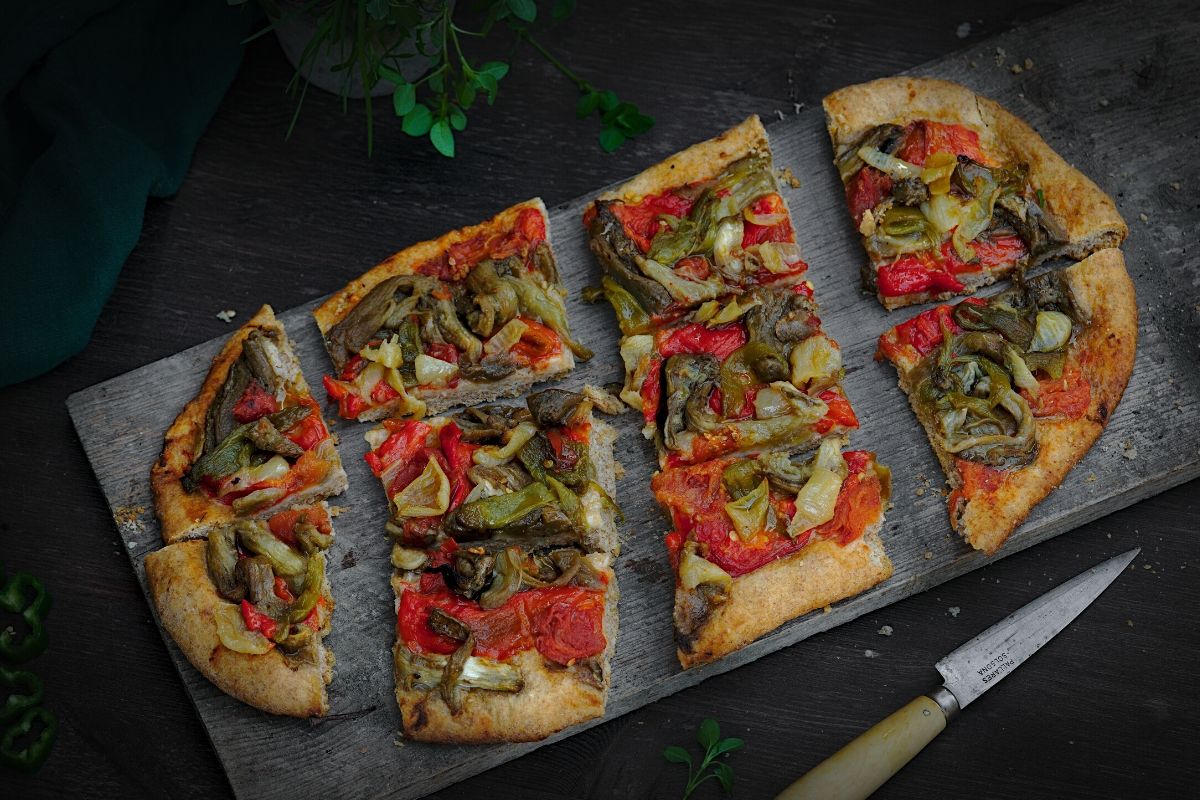 The story goes that housewives used to bring their ingredients to the local bakery, where the bakers would cook them with their own fine dough.
Nowadays, this is a very common recipe that you can find in almost any bakery in Catalonia.
Some people think it looks like a half-baked pizza. "You forgot to add the cheese!" they might say. But without the cheese, the flavors of these roasted vegetables shine through even brighter.
As you can imagine, it is worth investing in quality fresh products to get the best out of this recipe! Opt for seasonal vegetables, a good flour and the best olive oil.
Eating coca is like taking a bite of Mediterranean land, seasoned with the finest this corner of the world has to offer: olive oil, vegetables and a simple recipe from the past, which warms the heart (and the stomach!).
Other recipes from the heart of Spain:
Garlic Soup with Egg and Croutons
Tortilla Espanola (Egg and Potato Omelet)
Cod with Tomato Sauce (Bacalao a la Riojana)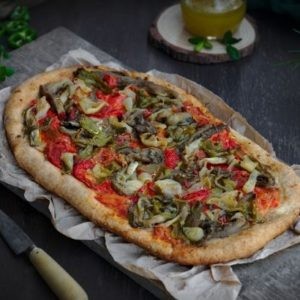 Roasted Veggie Flatbread (Spain)
Ingredients
FOR THE DOUGH......
1 1/4

cups

all-purpose flour

1/3

cup

whole wheat flour

1/2

tsp

salt

1

tsp

ground black pepper

1

tsp

baking powder

1/3

cup

extra virgin olive oil

2/3

cup

water