This shrimp casserole with cheese and peppers is rich, creamy and is best served with a nice loaf of bread for dipping in the delicious drippings.
Shrimp recipes are a crowd pleaser. Fried, boiled, or baked, many cooking styles can be applied to them. This shrimp casserole stands out among other shrimp dishes because shrimp is usually prepared by itself with simple ingredients like garlic, lemon, olive oil or served with cocktail sauce. Shrimp casserole is one of the essential seafood dishes from Turkey. This Turkish delicacy, which you can choose to have as a hot starter, appetizer or even as the main course, will cause a wave of excitement when it comes to the table with its sizzling oil. Since it is a natural source of vitamin D, it helps improve brain functions. Shrimp casserole, a dish unique to Turkish cuisine, is easier to make at home than you think!
Using clay stewpots is the traditional way to go with this dish. Having it in your kitchen will allow you to make some of the best traditional dishes. Its natural texture will add a low note to the shrimp, expanding the food experience; however, if these are not available, cast iron pans will do the trick as well. Especially on summer nights, having this dish with red wine or raki will make your dinner remarkable. It is nutritious and relatively light, especially compared to other protein sources. This means it can quickly become one of your favorite dishes if you are on the Mediterranean Diet. 
I personally enjoy using Kaşar -Kasseri- cheese while making this dish. Still, if they are unavailable to you, mozzarella is also a great option. If you like the combination of umami and spicy, trying this can give you a new kind of joy. Another excellent ingredient for shrimp casserole is mushrooms. If you want to include them, make sure to add them after the peppers.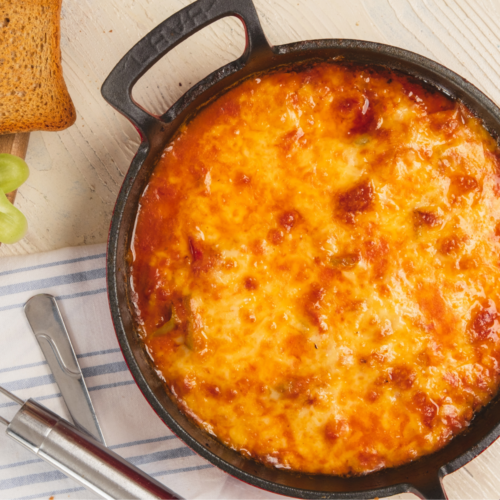 Shrimp Casserole
Ingredients
1/2

medium onion

1

red hot pepper

1/8

yellow bell pepper

1

green pepper

1

tbsp

extra virgin olive oil

2

garlic cloves, minced

1

lb

small shrimp, peeled & deveined

4

tsp

butter

1/2

cup

tomato puree

black pepper

salt
For the topping:
1/2

cup

grated kasar cheese or mozzerella
For serving:
2

bread slices, toasted (optional)
Instructions
Finely chop the onion, slice the red hot pepper, medium dice the yellow bell pepper, and slice the green pepper. Heat the olive oil in a cast-iron pan. Saute the chopped onions and peppers until the onions turn translucent. Add the minced garlic and saute another 30 seconds.

Add the shrimp and butter to the pan, saute for about 3 minutes. Sprinkle the salt and pepper and add the tomato puree.

Cook for about another 5 minutes until the cooking juice slightly evaporates.

Sprinkle with grated kasar cheese or mozzarella cheese.

Bake in the preheated oven at 190°C / 375°F until the cheeses are melted and golden brown for about 15 minutes.

Serve hot with optional toasted bread slices.
Nutrition
Calories:
232
kcal
Carbohydrates:
7
g
Protein:
27
g
Fat:
11
g
Saturated Fat:
5
g
Polyunsaturated Fat:
1
g
Monounsaturated Fat:
5
g
Trans Fat:
1
g
Cholesterol:
204
mg
Sodium:
266
mg
Potassium:
542
mg
Fiber:
1
g
Sugar:
3
g
Vitamin A:
512
IU
Vitamin C:
36
mg
Calcium:
160
mg
Iron:
1
mg