If you are looking for a super quick Mediterranean Diet side dish recipe that will satisfy everyone then you have come to the right place!  Spinach with feta and lemon takes about 10 minutes to make, is ridiculously delicious and will go with just about any main dish whether it's chicken, fish, meat or beans.  Serve this with warm, crusty bread for sopping up the olive oil and pot liquor.
This is a great dish for leftovers as well.  I always make extra so I can have it with a salad and some bread for lunch the next day.
From the book "Foods of Crete: Traditional Recipes from the Healthiest People in the World" by Koula Barydakis and Bill Bradley, R.D.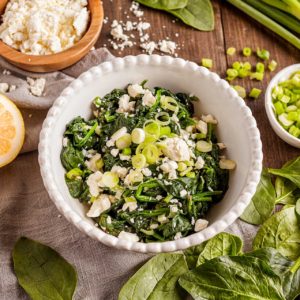 Spinach with Feta and Lemon (Island of Crete-Greece)